Apply for the Emerging Leaders Fellowship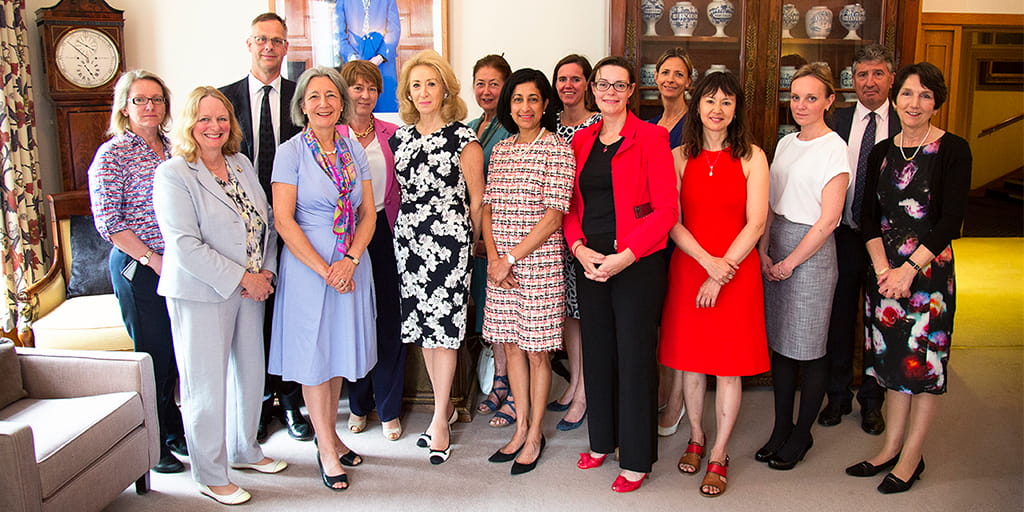 The Kennedy report on diversity and inclusion at the Royal College of Surgeons of England highlighted the attrition of women from the surgical profession and noted that the Emerging Leaders programme is a key initiative to support women in surgery. Our refreshed Emerging Leaders programme aims to encourage women and non-binary people to become familiar with, and subsequently apply for, leadership roles within the surgical and healthcare profession.
Please register your interest in the 2024 Emerging Leaders.
About the programme
RCS England aims to build an inclusive profession where everyone's contribution is recognised and all feel welcome, demonstrating our commitment to fairness, gender equality and anti-racism. To do this, we need more women to get involved with the leadership of the College and healthcare organisations in general. As a surgeon, leadership opportunities are available to you throughout your career. However, external and internal factors such as imposter syndrome, fear of the unknown, lack of time, family commitments or your financial situation, can stop you from applying to roles in which you have great potential to excel.
The Emerging Leaders programme supports women and non-binary people whose environment means they are struggling to find their leadership style and voice. Focused on transformational leadership, we are particularly looking for aspiring inclusive leaders. The programme has been specifically designed for those who are looking to advance their leadership career, develop their skills, grow their network, and influence and change the environment for the better as they move into formal leadership roles.
The national programme has limited places, and we offer opportunities and exposure that participants may not otherwise be able to access. Previous participants have gone on to roles such as RCS England Council member, Director of Medical Education, and RCS England regional directors. Selection criteria will therefore consider those who have had fewer opportunities for formal leadership training and can gain the most from this programme.
Watch our short video featuring some of the Emerging Leaders steering group talking about the programme and answering some of the frequently asked questions from the last 12 months.
For more experienced leaders, we offer a 'Ready for Leadership' event, showcasing senior leadership opportunities and a range of diverse career journeys and offering networking and professional development. Look out for our next event in Spring 2023.
---
'Having concentrated on delivering excellence in clinical care and training as a consultant surgeon for the past decade, the Lady Estelle Wolfson Fellowship programme has now offered a unique insight into how the Royal College of Surgeons functions, and provided an opportunity to explore how one might usefully contribute to our profession in the future.'
– Nicola Fearnhead, RCS Council Member and Emerging Leaders participant 2015–16
Benefits
The Emerging Leaders programme provides participants with:
an understanding of the roles and responsibilities involved in leadership;
an opportunity to develop your own leadership style and build confidence;
support in overcoming the challenges of progression into leadership;
the opportunity to meet and engage with senior leaders at RCS England and in the surgical profession;
access to high-profile meetings at RCS England, such as Council and Standing Committee meetings;
the chance to be part of making change happen at the College;
a chance to get involved in a variety of RCS England activities of personal interest;
access to mentors from inside and/or outside the surgical profession;
peer support from other participants and access to an alumnae network.
---
'The fellowship allowed me to develop my leadership style, but also to challenge the traditional stereotypes of women in leadership roles and give me the inspiration and confidence to continue to break glass ceilings which have only just begun to shatter. Taking part in the Emerging Leaders Fellowship allowed me to learn about different leadership styles from inspiring women and mentors which in turn helped me develop the inspiring leader I wish to become.

'I have witnessed first-hand the work ethic, team spirit and proactive implementation of the College's values. The opportunity to contribute to this environment as well as opportunities to continuously improve and effect positive change, have been invaluable to me as an individual, a clinician, and a mentor.'
 – Sara Hosni, 2019-20
---
Programme summary
The programme runs for 21 months, starting in January and finishing in September of the following year.
Year 1
Complete eight e-learning modules – around two hours of learning time, accompanied by forums to share thinking.
Attend two workshops.
Identify your development needs and work with a mentor identified for you based on your goals and interests.
Find out more about governance and leadership roles at RCS England, specialty associations or your employing trust, by attending committee meetings or forums.
Follow up on networking opportunities and identify people who can help you progress your career.
Year 2
Act as a mentor to year one participants and contribute to an alumnae network.
Strengthen your own support network and impact in leadership roles.
Attend the Ready for Leadership event.
Contribute to the WinS conference or a similar event.
Contribute to an evaluation of the programme's impact on your career and development as a surgical leader.
This may include interviews, podcasts, webinars and presentations.
Beyond year 2
Continue to act as a mentor to other participants or alumnae.
---
'The Lady Estelle Wolfson Leadership Fellowship has provided valuable mentorship and a (super) fast-track in my career. There are opportunities to attend a multitude of RCS committee meetings, to deliver teaching at RCS Educational Courses, and to participate in the design of marketing resources. Networking with a diverse group of Fellows has offered informal support and contacts for the future. As the year draws to an end, I have been successfully appointed to a programme director role - a leadership opportunity that I had not dreamt of this time last year. My sincere thanks to RCS and FDS for your support. If you're thinking about applying - stop thinking and just go for it.'
– Laura Gartshore, 2018–19
Selection criteria
To be eligible for the Emerging Leaders Programme, you must:
identify as a woman or as a non-binary person who is comfortable in a space that centres the experiences of women;
be a fellow or member of The Royal College of Surgeons of England at the point of application;
demonstrate self-awareness and a commitment to professional and personal development, with no or limited prior access to formal structured leadership programmes (short or mandatory courses are acceptable);
be looking for formal leadership roles within the next 2–5 years of your career plan
demonstrate commitment to an inclusive leadership mindset, embodying diversity, equity and inclusion principles, and actively welcoming diversity of thought;
demonstrate an ambition to lead, with a sense of purpose and vision.
We welcome applications from a diverse range of people who work in surgery, dentistry and medicine, including those who work less than full time. We are also keen to achieve a spread of appointments across specialties and geographical regions.
For further information, please contact educationawards@rcseng.ac.uk.
Application timeline
Applications close: September 2023

Interviews will be held virtually in November 2023

Successful participants will be contacted in December 2023

Welcome Event scheduled for late January, early February 2024

Fees
This formal leadership programme holds a value of £4,500 +VAT per person and is fully funded for RCS England members, including access to all e-learning modules, face-to-face events, mentorship and networking opportunities. Travel and accommodation for attendance at face-to-face events will be covered by RCS England in accordance with our expenses policy.
Support for your application
We are committed to supporting personal and professional development in relation to the Emerging Leaders programme. We are therefore planning materials that will support you through the application and interview process. We hope these resources will be useful for your Emerging Leaders application, and that they will also provide valuable context and tools to help you apply for other leadership roles. 
Application support: We have created a short video featuring some of the Emerging Leaders steering group talking about the programme and answering some of the frequently asked questions from the last 12 months.
Interview support: Shortly after applications close in September, we plan to release a further video that will support interview preparation. A further live Q&A session will run in early October, which will be recorded and made available afterwards.
Questions for both Q&A sessions will be taken in advance and can be submitted to rcsevents@rcseng.ac.uk with the subject line 'Emerging Leaders application support'. Please come back to this page for further information on resource release dates and for information on how to book the live sessions. 
Programme - Year 1
Provisional programme, subject to change.
Year 1: Learning and knowledge gathering
January – March
Introduction and welcome (virtual)
 History of women in surgery, why we need women in leadership roles
How to derive the best outcomes from the programme
Leadership in the College (video)
Leadership competence linked to the aims, vision and values of the College
Pathways to leadership and structure and governance of the College
What is leadership? (e-learning)
Your own leadership type and style
Behaviours of an effective leader
April – June
Networking (e-learning)
Grasping opportunities, boosting visibility and presence
Effective observation
Peer support (e-learning)
Mentoring and coaching
Giving and receiving feedback
Leadership theories (e-learning)
Some theories and evidence
Leader or manager
What have you learnt so far? (half-day workshop)
Practising feedback, mentoring and coaching
Reflecting on your progress
July – September
Equality, diversity and inclusion (e-learning)
Inclusive leadership behaviour
Creative responses to challenging situations
Being a positive influencer (e-learning)
Inspiring others and being a good role model
Communication skills including body language
October – December
Teamwork (e-learning)
Building an effective team and diverse strengths within a team
Creating a psychologically safe working environment
Success (e-learning)
What does success look like for you?
Your vision for you as a leader and action plan
Making progress and moving forwards (half-day workshop)
Challenging conversations – roleplay
Reflecting on your progress and what your success looks like
Reflection on the programme and discussion of experiences
Discussion on your development and plans for your leadership journey
End of year gathering (format to be agreed)
Programme - Year 2 and beyond
Year 2:  Application, sharing and embedding
Focus on developing and applying the knowledge, skills and attitudes gained in year 1
Observe and participate in coaching and mentoring conversations and events
Provide peer support to the next cohort of participants
Networking
Grow your network and seek out suitable leadership positions
Reflection
 Write journal reflections and review the leadership plan
Conference
Deliver a session or lead a steering group to plan a session at the WinS conference or a similar event
Receive and respond to feedback from peer support
Celebration
 Final gathering to celebrate successes, review the programme and give feedback
Year 3 onwards: Alumnae years
Supporting others
Provide peer support to participants, others in the College or those in governance roles at a national or local level to grow a culture of sustainable, inclusive leadership
Networking
Continue to grow your network and seek out suitable leadership positions
FAQs
Q: Do I have to have reached a certain grade to apply?
A: No. People are ready for leadership at different stages of their careers, and we don't exclude anyone purely on career grade. Current Emerging Leaders include ST5–7 trainees, post-CCT fellows and consultants. 
Q: How do I know if I'm ready for the programme?
A: We are looking for people who are aiming to take up influential leadership positions in the next 2–5 years. You have probably already taken the first step towards leadership, perhaps through sitting on a committee or managing a group of junior doctors, and you have your eye on moving towards senior leadership positions such as Training Programme Director or RCS Council Member. However, this is just an example, and if you think you would benefit from the programme, we encourage you to apply.