Norfolk and Norwich Hospital
In a decade, the trauma and orthopaedics department at the Norfolk and Norwich University Hospital went from a ratio of one SHO per consultant to one for five consultants. This reflected a reduction in trainee numbers in the early years – from 18 to 7 – and an expansion in consultant numbers (there are now 24 consultants). Difficulties in recruiting trust-grade doctors, combined with concern about the quality of those doctors, led the hospital to introduce orthopaedic nurse practitioners to undertake much of the ward work previously done by core and foundation doctors.
This hospital also describes itself as the first in the country to appoint surgical assistants – now called orthopaedic surgical care practitioners. Today there are five such practitioners; three are theatre-based, where the service need is described as greatest, but two cover the whole patient pathway.
The extended surgical team in orthopaedics also includes a prescribing pharmacist – this is a role that a number of other hospitals are interested in, especially given the restrictions on physician associates when it comes to prescribing.
This case study can be found on page 42 of the Question of Balance report
---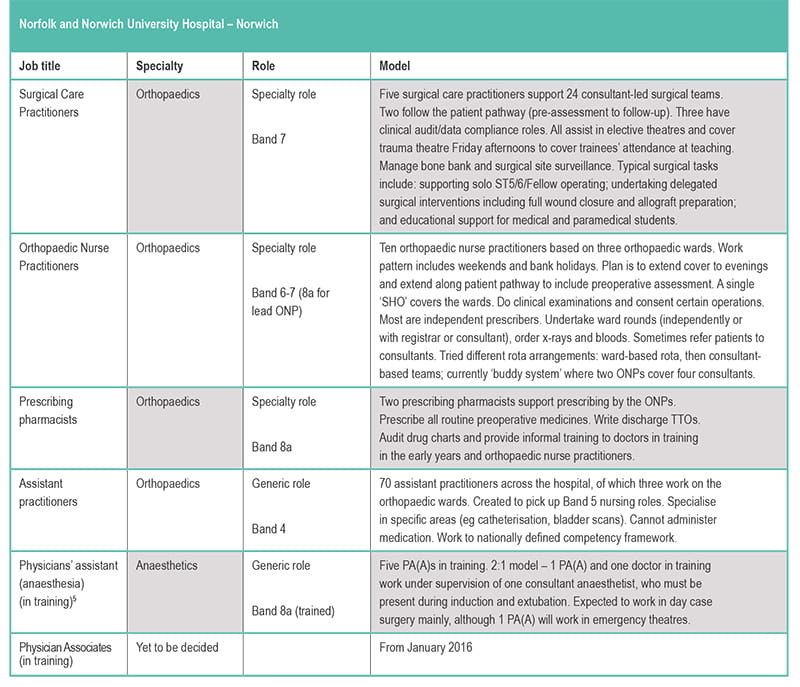 Get involved:
Further information will be available shortly letting you know how you can share your views with us.
Email
Email Thomas Gale (Head of Support, tgale@rcseng.ac.uk / 020 7869 6092)
We will reply to you as soon as possible and aim to do this within a few days.
Telephone
Call 020 7869 6090 to speak to Jessica Cunliffe, Head of Support