Course accreditation
Providing a quality mark for surgical education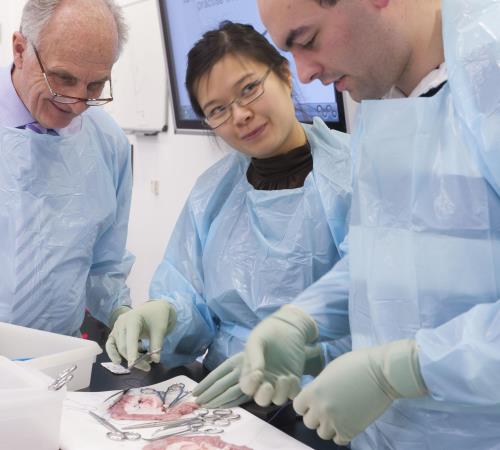 As well as running a large number of surgical education courses, the RCS England also accredits and monitors short courses run by other providers.

This is to ensure that a course has been developed in line with the College's criteria and standards for surgical education, and that the educational content, teaching methods, aims and learning outcomes are appropriate.

Course accreditation is usually awarded for three years following a successful panel visit to view the course in delivery. Any accreditation is subject to satisfactory annual monitoring and review.
Benefits of course accreditation
Having a course accredited will demonstrate that the course meets the standards as defined by the RCS England and that it offers a high-quality learning experience. Recognition of these factors may assist in attracting course delegates. Accredited courses will also receive the following benefits:
peer review from a panel of leading surgeons;
use of the RCS England logo on course materials and website;
use of the strapline 'Accredited by the Royal College of Surgeons of England';
listing on RCS England website;
listing in RCS England Bulletin;
applicable courses will be awarded Continuing Professional Development (CPD) points as part of course accreditation.
Who can apply
Any organiser or provider of educational or scientific courses which aid the development of competent surgeons or those from allied health professions can apply for course accreditation. However, only courses which can provide detailed and positive feedback from at least the previous two sittings of the course, or which have previously received course approval from the RCS, are eligible for course accreditation.
How to apply

RCS Accreditation process
Accreditation can be applied for on our Accreditation Portal, by registering for a free account and starting a new activity. Once an application has been submitted, the stages broadly follow the cycle shown below.
Step 1 - Desktop assessment
Initial desk-based review of application for accreditation, including assessment of course participant feedback.
At each step of the process, the applicant may be asked for further information, or to amend the educational activity they provide, to meet RCS England education standards.
Step 2 - Panel visit
If the application is viable, a visit to the course by an RCS England review panel (including one or more senior surgeons) takes place.
Step 3 - Report writing stage
A report is written by a QA team member, including input from the RCS England review panel, to be presented to the Quality Assurance Operational Group (QAOG). This may include conditions and recommendations for the provider.
Step 4 - Quality Assurance Operational Group (QAOG) meeting
The report is presented at the next QAOG meeting, which are held four times a year. Members of the QAOG discuss the application and the group makes a collective decision to approve or reject the application. This may include conditions and recommendations for the provider. If awarded, accreditation lasts for three years. The accreditation is accompanied by ongoing monitoring of educational provision.