Course accreditation
Providing a quality mark for surgical education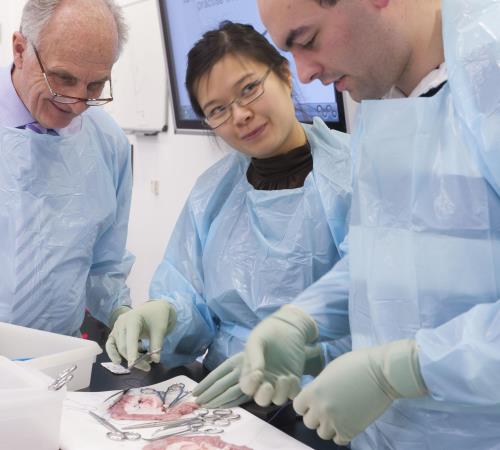 As well as running a large number of surgical education courses, the RCS also accredits and monitors short courses run by other providers.

This is to ensure that a course has been developed in line with the College's criteria and standards for surgical education, and that the educational content, teaching methods, aims and learning outcomes are appropriate.

Course accreditation is usually awarded for three years following a successful panel visit to view the course in delivery. Any accreditation is subject to satisfactory annual monitoring and review.
Benefits of course accreditation
Having a course accredited will demonstrate that the course meets the standards as defined by the RCS and that it offers a high-quality learning experience. Recognition of these factors may assist in attracting course delegates. Accredited courses will also receive the following benefits:
peer review from a panel of leading surgeons;
use of the RCS logo on course materials and website;
use of the strap line 'Accredited by the Royal College of Surgeons of England';
listing on RCS website;
listing in RCS Bulletin;
applicable courses will be awarded with Continuing Professional Development (CPD) points as part of course accreditation.
Who can apply
Course accreditation is designed for short courses of up to and including five days in length. Any organiser or provider of educational or scientific courses which aid the development of competent surgeons or those from allied health professions can apply for course accreditation. However, only courses which can provide detailed and positive feedback from at least the previous two sittings of the course, or which have previously received course approval from the RCS, are eligible for course accreditation.
How to apply

RCS Accreditation process
Accreditation can be applied for on our Accreditation Portal, by registering for a free account and starting a new activity.  Once an application has been submitted, the stages broadly follow the cycle shown below.
Step 1 - Desktop assessment
Initial desk-based review of application for accreditation, including assesment of course participant feedback.
At each step of the process, the applicant may be asked for further information, or to amend the educational activity the provide, to meet RCS education standards.
Step 2 - Panel visit
If the application is viable, a visit to the course by an RCS review panel (including one or more senior surgeons) takes place.
Step 3 - Report writing stage
A report is written by a QA team member, including input from the RCS review panel, to be presented to the Quality Assurance Operational Group (QAOG). This may include conditions and recommendations for the provider.
Step 4 - RCS Quality Assurance Operational Group meeting
The report is presented at the next QAOG meeting, which are held four times a year. Members of the QAOG discuss the application and the group makes a collective  recommendation to approve or reject the application. This may include conditions and recommendations for the provider.
Step 5 - RCS Learning & Assesment Committee
The recommendation of the QAOG is presented to the L&A Committee, who make the final decision on awarding accreditation. If awarded, accreditation lasts for three years. Accreditation may be accompanied by conditions to be met or recommendations to be considered by the applicant. The accreditation is accompanied by ongoing monitoring of educational provision.
List of accredited courses
Accredited course provider / Venue

Course name

 

Period of accreditation

 Contact

Transanal Haemorrhoidal Dearterialisation Course


Initially accredited Feb 2012.
Reaccredited Jan 2019 - Dec 2021

Mr Pasquale Giordano, Consultant Surgeon and Senior Lecturer


Warrington & Halton NHS Foundation Trust

Anaesthesia, Trauma and Critical Care (ATACC) Course
Initially accredited Jul 2013. Reaccredited Dec 2019 - Nov 2022
Dr Mark Forrest, Consultant in Anaesthesia and Critical Care


Queen Victoria Hospital NHS Foundation Trust

Trauma and Burns Course
Initially accredited Jul 2014. Reaccredited Jan 2018 - Dec 2020
Mrs Veronica Bowes, Specialist Training Coordinator


Guy's & St Thomas' NHS Foundation

St Thomas' Cadaveric Hand Trauma
Initially accredited Dec 2014. Reaccredited Jan 2018 - Dec 2020
Mr Jamil Ahmed, Associate Specialist Plastic and Hand Surgery


Calderdale and Huddersfield NHS Foundation Trust

Masterclass of Intramedullary Nailing: Tips and Tricks
Initially accredited Dec 2014. Reaccredited Apr 2018 - Mar 2021
Professor Subhash Halder, Consultant Orthopaedic Surgeon


National Organ Retrieval Service

National Organ Retrieval Course

Initially accredited Feb 2016. Reaccredited Jan 2019 - Dec 2021
Professor Rutger Ploeg, NHSBT National Lead for Organ Retrieval

Postgraduate Orthopaedics

Initially accredited Apr 2016. Reaccredited Mar 2020 - Feb 2023

Mr Paul Banaszkiewicz, Consultant Orthopaedic Surgeon


Leighton Hospital, Crewe

Laparoscopic Inguinal Repair Course
Initially accredited Dec 2016. Reaccredited Oct 2019 - Sep 2022

Mr Magdi Hanafy, Consultant General Surgeon


University College London Hospital

Headstart - The Technical and Regulatory Aspects of Setting Up a Sentinel Node Biopsy Service in Early Oral Cancer
Initially accredited Feb 2017. reaccredited Dec 2019 - Nov 2022

Professor Mark McGurk, Consultant Oral and Maxillifacial Head and Neck Surgeon

NDORMS, University of Oxford

Bristol and Oxford Surgical Trials intervention Course (BOSTiC)
Jul 2017 - Jun 2020
Professor David Beard, Botnar Research Centre, NDORMS


Barts Cancer Institute, London

 FRCS (Tr & Orth) Viva Course for Orthopaedic Surgeons
 Jan 2019 - Dec 2021
 Mr Jeh Mahaluxmivala, Consultant Orthopaedic Surgeon

Advanced Trauma Nursing Course (ATNC)

ATNC
Jul 2018 - Jun 2021
Mr Robert Pinate
Online module
Jan 2019 - Jan 2020
Professor Jeremy Grummett, Urological Surgeon and Director of Clinical Reseach in Urology at Alfred Health

Quenn's Hospital, Romford

Trauma and Essential Surgical Skills (TESS)

Jan 2019 - Dec 2021

 Mr Saswata Banerjee, Consultant General and Colorectal Surgeon

Global Clubfoot Initiative

UK Clubfoot - Training Levels 1 & 2

Jan 2019 - Dec 2021
Mrs Rosalind Owen, Executive Director at Global Clubfoot Initiative


Canterbury Christchurch University

Foundations in Surgical Skills and Anatomy for the Physician Associate

Jan 2019 - Dec 2021

Mrs Roz Tucker, Physician Assistant

Vesalius Clinical Training Unit

Operative Skills in Neurosurgery

Mar 2019 - Feb 2022

Mr George Malcolm, Consultant Neurosurgeon


British Orthopaedic Sports Trauma and Arthroscopy Association (BOSTAA)

Advanced Arthroscopic Knee
Mar 2019 - Feb 2022

Mr Panos Thomas, Consultant Knee and Sports Surgeon, and Professor Fares Haddad, Hip and Knee Reconstructive Surgeon

David Nott Foundation

Hostile Environments Surgical Training (HEST) Course
Jun 2019 - May 2022
Mr Ivar Milligan, Cheif Executive
Professional Behaviours Masterclass for Cosmetic Surgery
Jun 2019 - May 2022
Dr John Jolly, Head of Member Risk Education

Winton Centre for Risk and Evidence Communication, Cambridge University

Communicating Potential Harms and Benefits: Perioperative version
Jun 2019 - May 2022
Dr Alexandra Freeman, Executive Director

Medical Aid for Palestinians


Basic Surgical Skills course

&

Core Skills in Laparoscopic Surgery course

Jul 2019 - Jun 2022
Dr Andrew Ferguson, Director of Programmes

University Hospital of North Tees

Single Incision Laparoscopic Colorectal course (SILCS)

&

Laparoscopic Cholecystectomy course

Jul 2019 - Jun 2022

 

Dec 2019 - Nov 2022

Mr Talvinder Gil, Colorectal Surgeon (SILCS) & Mr Milind Rao, Upper GI and Bariatric Surgeon (Lap Chole)

course organiser (both): Mr Prem Thambi, Colorectal Surgeon

The Hamlyn Symposium of Medical Robotics

Sep 2019 - Aug 2022

Professor Guang-Zhong Yang


South Devon Uppper GI Unit

Laparoscopic Bile Duct Exploration course

&

Advanced Laparoscopic Hiatal Surgery

Sep 2019 - Aug 2022

 

Dec 2019 - Nov 2022

Mr Stuart Andrews, Consultant General Surgeon

SCReaM Human Factors and Crew Resource Management

SCReaM Human Factors Course

Oct 2019 - Sep 2022

Dr Ben Morrison, Consultant Anaesthatist

Orth North

The Northern FRCS Orth Revision Course

Oct 2019 - Sep 2022

Mr Balaji Puroshothaman, Consultant Orthopaedic Spinal Surgeon

Royal Papworth Hospital

Challenges in Organ Donation, Retreival and Transplantation

Dec 2019 - Nov 2022
Mr Marius Berman, Consultant Cardiothoracic Surgeon

Orthopaedic Evaluation of X-rays

 Orthopaedic Evaluation of X-rays
Mar 2020 - Feb 2023

 Dr Joseph Boktor

Future Science Group

3DMedLive

Mar 2020 - Feb 2023 
 Miss Lauren Pulling, course organiser

Contact
If you have any queries about Course Accreditation that are not covered in our standards and frequently asked questions, please contact the Quality Assurance Department at qa@rcseng.ac.uk or on 020 7869 6236/6208.