Research
The Museums of the Royal College of Surgeons of England welcomes opportunities for collaborative research based around the RCS England's diverse collections. These hold great interest in a wide variety of fields including the history of medicine, dentistry, osteology, bioarchaeology, museology, evolutionary anthropology, climatology, veterinary science and wildlife conservation. Research may be based on collections, texts, objects or practices.
Following the redevelopment of the College building and the ongoing development of the new Hunterian Museum, due to reopen in May 2023, all collections have now been placed into storage for the duration of this project.
We are committed to maintaining the maximum access possible to stored collections for research, however, as collections are now located across multiple sites with varying access to facilities, it may not be possible to access all requested objects and considerable notice will be required for all research requests.
The museums team will continue to respond to requests for images throughout this period - providing that those requested are already held by the RCS England as we are currently unable to offer a service for new photography of collections.
Online search facilities will continue to be available through our online catalogue 'Surgicat' which covers all RCS England's museums and archives holdings: http://surgicat.rcseng.ac.uk/
 Archives enquiries should be directed to: archives@rcseng.ac.uk
How to Arrange Research at the RCS Museum Collections
Online search facilities will continue to be available through our online catalogue 'Surgicat' which covers museum holdings, special collections and archives: http://surgicat.rcseng.ac.uk/
Past research projects using the RCSEng Museums collections
London Atlas of Human Tooth Development and Eruption;
Dr. Sakher Al Qatahni and Dr. Helen Liversidge, Institute of Dentistry, Queen Mary University of London (QMUL), using the Maurice Stack collection to contribute to a comprehensive atlas with diagrams to estimate age using tooth development and alveolar eruption.
Gorilla Pathology Study Group;
Professor John E Cooper, Consultant Veterinary Pathologist, examining gorilla material as part of a collaborative study of skeletal and dental pathology in order to understand and promote better the health and welfare of gorillas in the wild.
Leopard seal research;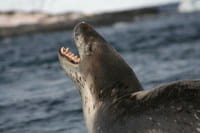 Associate Professor Tracey Rogers, University of New South Wales, investigating how climate change has impacted Antarctic food webs by looking at the diets of seals.
Dental stigmata of congenital syphilis:
Professor Simon Hillson, University College London (UCL), studying the characteristic dental enamel defects of individuals with congenital syphilis.
3D scanning of cranial morphology among African apes;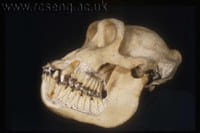 Jason Massey, University of Minnesota, examining the degree and pattern of extant primate sexual dimorphism in order to apply methods to the human fossil record.
Historic Cheetah Phylogeography Project;
Léna Godsall Bottriell and Paul Bottriell, The Rex Foundation, investigating (with University Veterinary Medicine Vienna) cheetah's evolutionary development in relation to geography, analysing mitochrondrial, nuclear DNA and microsatellites in tissue samples from cheetah's recent former African and Asian range to determine divergence times and distinctions between the geographic races described over time. 
Legacies of the repatriation of human remains;
Sarah Morton, Queen Mary University of London (QMUL), focusing on the repatriation of human remains from the Hunterian Museum collections to indigenous groups in Australia, New Zealand and Hawaii.
Hunterian Bicentenary Fellowship;
Dr Wendy Birch, University College London (UCL), exploring musculoskeletal differences between primates preserved in the Osman-Hill collection. The project seeks to provide a detailed anatomy resource across the main groups of primates and to demonstrate the relevance of museum specimens to modern anatomical teaching.