Exhibitions
Transplant and Life
Tuesday 22 November 2016 to Saturday 20 May 2017
Qvist Gallery, Hunterian Museum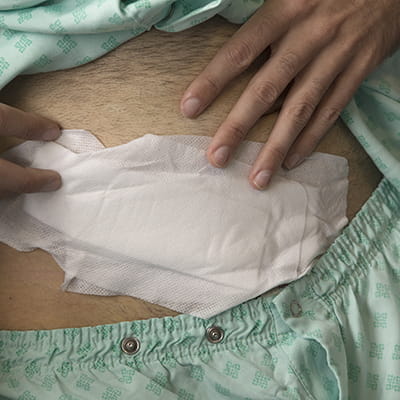 A programme of events and commissioned artworks exploring organ transplantation. Artists Tim Wainwright and John Wynne, working with patients at the Royal Free and Harefield hospitals, use sound, photography and video to reveal intimate patient experiences and bring the sights and sounds of patients into the museum, a place usually associated with specimens, hardware, and clinical heroes.

This exhibition gives voice to the patient experience and raises awareness of the importance of transplantation and the challenges surrounding it. Every day around three people who could have benefited from a transplant die because there aren't enough organ donors. We need more people to agree to organ donation.
It only takes two minutes to sign up to the NHS Organ Donor Register, so don't delay, do it today. And don't forget to tell your family that you want them to support your decision.
Find out more about Transplant and Life by using the digital guide www.transplantandlife.uk
This includes the stories of patients, live donors, families and medical professionals who have participated in this project. New material will be added throughout the exhibition to update you on patient's progress and hear more about transplant surgery and organ donation.
When you visit the museum the guide is available via your smartphone or tablet.
Image right: Jonny's bandage, copyright Tim Wainwright 2016
Transplant and Life is generously supported by:
The Hunterian Museum would like to thank all the people involved as participants and the following organisations for funding the project:
Hunterian Museum Trustees, Organ Recovery Systems, Bridge to Life, PharmaPal, Mr Nick Lane, Oxford CommSciCom and NHS Blood and Transplant.
Transplant and Life used products developed and supplied by:
City Insights, NES, Roche AV, Metro Imaging and Sound Directions.
---
War, Art and Surgery: Work by Julia Midgley
Levy Cases, Inner Hall. Open Monday – Friday 9am–5pm and Saturday 10am-5pm. Free.
Art Cases, Hunterian Museum. Open Tuesday-Saturday 10am-5pm. Free.
A changing selection of artworks by reportage artist Julia Midgley will be displayed in the foyer cases of the Royal College of Surgeons (RCS). They have been selected from over 150 works Midgley made over eighteen months observing military surgical training and rehabilitation at Headley Court, York, RCS and other sites. These examples will be exchanged every few months to demonstrate the diversity of her work which can also be seen in in the main exhibition of War, Art and Surgery in the Hunterian Museum.
The exhibitions at the Hunterian are complemented by an accompanying book available to purchase in the museum and online.
---
Surgeons, the Great War and the RCS
Ground Floor Corridor. Open Monday – Friday 9am–5pm and Saturday 10am-5pm. Free
The RCS holds in its collections a number of portraits of surgeons who served in the military, and to commemorate their contribution during the First World War six have been selected and are on display on the ground floor of the College.
All were knighted for their role in improving medical provision for the army; four served as Presidents of the RCS, and one as Dean of the Faculty of Dental Surgery.
These are only six of the tens of thousands of medical officers, nurses, orderlies and stretcher bearers who contributed to the life-saving work of the medical services during the Great War.
---
Archive facsimile displays
The library and College archives contain a wealth of material related both to surgery and more unusual subjects. A changing display of facsimile materials will reflect key national themes across the year.
Library displays can be seen Monday – Friday 9.30am-5.30pm (call 020 7869 6555 before making a special visit).
Displays in the ground floor cabinets can be viewed Monday – Saturday 10am-5pm. Free to visit.
---
Past exhibitions and displays
Find out more about all previous exhibitions in our Exhibitions archive.