Curious: The craft of microscopy
An exhibition by artist Susanna Edwards
Tuesday 16 February - Saturday 3 July 2010
Qvist Gallery, open Tues-Sat 10am-5pm
Free Admission
Several years ago artist Susanna Edwards happened to come upon a collection of Victorian microscopic slides in a second-hand shop. She was intrigued by the creativity and dexterity involved in making these delicate objects. Using eight microscopes dating back to the 18th century to photograph her slide collection, she has created a stunning series of images which show how technology has changed the way we see the world. The exhibition includes large-scale photographic prints alongside the instruments used to make them, the oldest of which is a 1730s Culpeper microscope.
Susanna said:
"My work has relevance to those with both scientific and artistic interests – and I hope that both can gain something from this crossing over."
Professor Chris Hawes, a Vice President of the Royal Microscopal Society, said:
"Anybody that enjoys microscopy would love to have the opportunity to work with such fine historic instruments. And, what artist would not love to present their work at a high-profile exhibition? What is thrilling about this project is that it has brought the two together in such a positive way. It will allow a new audience to see real examples of the development of the light microscope over the past 300 years."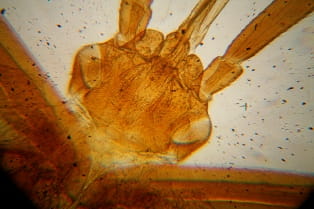 The exhibition is the latest to be staged at the Hunterian Museum at the Royal College of Surgeons of England, one of Britain's oldest medical museums. The exhibition is supported by a programme of lectures, events and hands-on workshops that explore the role of microscopes in medicine over the last three centuries.

Simon Chaplin, Former Hunterian Museum Director said:
"Microscopy has played a vital role in the development of modern surgery and medicine. We're delighted to showcase Susanna's work, which casts new light on a technology that we often take for granted."
Artist Statement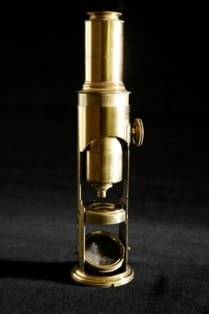 Susanna Edwards is an artist, designer and  lecturer. She is known for her diverse and innovative approach to the teaching and practice of art, design and illustration, spanning traditional and digital approaches to problem-solving.

Her own work often originates from traditional hands on ways of working such as letterpress and printmaking, but crosses over into digital and other areas such as photography, typography, print and publishing, editorial, research, writing, film and fine art. Shifting between different media with an emphasis on creativity and play, Edwards provides refreshing alternative art, design, research and art direction at the forefront of contemporary visual communication.

See her website for previous and future projects.
Original Victorian glass microscope slides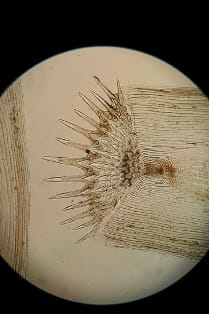 Plant Sections (Ivory Slider) (1750-70)
Blood of Frog (1900)
Section of Trichinous Human Muscle (1890)
Skin of Synapta (Sponge spicules) (1880)
Scales of Sole (1880)
Insect From Egg (India) (1880)
Injected Foot of Salamander (1860)
Stem of Horsetail (post 1900)
Injected Cat Lung (1860)
Microscopes from the Science Museum Collection
Culpeper Microscope (1720-38)
Cuff Microscope (1750-60)
Drum Type Microscope (c.1825-50)
Compound Microscope by Pillischer (1855-60)
Monocular Microscope by Crouch (1880-90)
'Royal' Microscope by Watson (1937)
Binocular Microscope by Reichert (1960-65)
'L-Ke' Oufit with Nomarski Dic by Nikon (c.1972)
Axioskop 20 by Zeiss (1994)