Joshua Brookes's Museum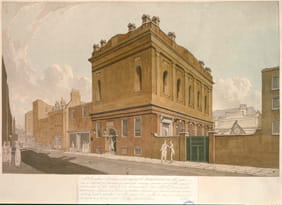 Joshua Brookes ran a private anatomy school and museum from his home on Great Marlborough Street. Over thirty years he assembled a vast collection of anatomical and zoological preparations. The museum filled the two upper stories of his house. According to one visitor it was 'so crammed with skeletons and other zoological specimens that it was hardly possible to move without knocking down something with one's tail coat.'
Competition between anatomy schools was high and a comprehensive museum appealed to students. Anatomy lecturers often used prepared body parts alongside fresh cadavers in their teaching. A museum was a symbol of the owner's professional standing.
There was no admission charge to Brookes's museum, but it was intended for a professional audience and access was strictly controlled. Gentlemen desiring entry sent a letter to the curator. If their application was successful, tickets would be returned by post. Changes in medical education put Brookes's thriving anatomy school out of business. His income declined and so did his health. The museum was sold at auction in 1828 and 1830.
Portrait of Joshua Brookes, stipple engraving by H Cook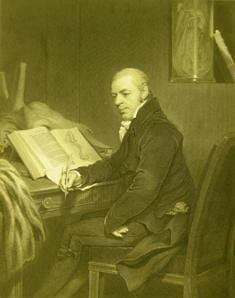 The original portrait was painted at the request of Brookes's students. The image makes reference to his professional status; the anatomical atlas on the desk, the animal corpse on the table and the animal embryo in a specimen jar symbolise his skill as an anatomist.

RCSSC/P 951
Joshua Brookes's vivarium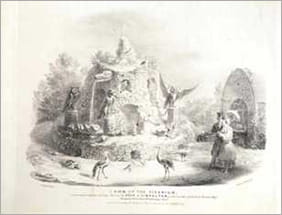 Brookes kept a menagerie of living animals in the grounds of his school.

RCSSC/P 320a
Left half of an upper and lower jaw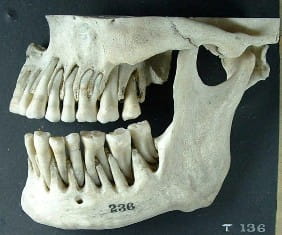 This was among Joshua Brookes's museum in 1830. Museum Conservator William Clift made the following note:

"Lot 56. A beautiful preparation of the superior and section of the inferior maxillary… the external surface of the alveolar process having been removed for the purpose of shewing the appearance of the teeth … .10.6 / Duty " . " .6 ½"
RCSHC/T 136
Painting of a Quagga, by Jacques Laurent Agasse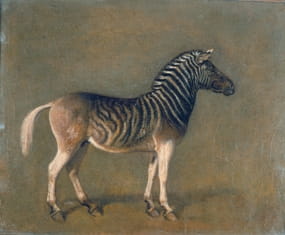 The quagga (Equus quagga) is an extinct form of zebra. This painting is thought to depict one of a pair of quaggas owned by Joseph Wilfred Parkins. Parkins used the animals to pull his carriage around London in the 1820s. When the quaggas died Joshua Brookes acquired their bodies for his museum.

Brookes's quagga skeleton and cranium were among the items purchased by the College in 1828. Unfortunately both were destroyed when the College was bombed in 1941.
RCSSC/P 27