Royal College of Surgeon's Museum
In the late 18th century the Company of Surgeons held no lectures and did not have a library. But in 1799 its poor reputation was saved by the acquisition of John Hunter's anatomical preparations, which helped to secure a royal charter.

The Royal College of Surgeons' Museum opened in 1813. Under the care of distinguished scientists such as the palaeontologist Richard Owen, it became one of the largest of its kind.
By the late 19th century the museum had grown from one to five large galleries and contained over 65,000 specimens covering anatomy, pathology, zoology, palaeontology, archaeology, anthropology, medical instruments and artworks.
Admission was reserved for medical professionals and scientists. Initially visits were limited to a few guided tours. Later it opened four afternoons a week.
On the night of 10 May 1941 the College was bombed. Rooms IV and V and their contents were completely destroyed. Room III was partially demolished and there was considerable damage to other areas. Over two-thirds of the collections were lost. Sir Arthur Keith was the former Conservator of the museum. His diary entries record the event: 

11 May 1941

Last night, in clear moonlight, a devilish procession started overhead; presently the sky over London glowed red; it had a hell of a time.

12 May 1941

I learned that the Museum of the Royal College of Surgeons had been reduced to a charred mass on the preceding night. All that my predecessors and I had laboured to bring about had been wiped out in a night.
After the War the College became more focused on training and research.  Staff developed separate anatomy and pathology teaching collections in the 1950s, and a smaller Hunterian Museum opened in the 1960s.
Drawing of the Interior of the Hunterian Museum between 1828 and 1834, by Richard Owen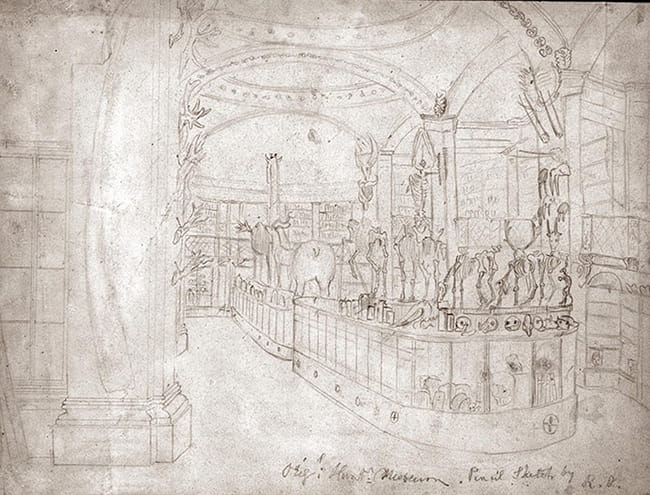 The room shown here is the original museum hall designed by George Dance and James Lewis. It was completed in 1813, and remained in use until 1834 when it was demolished as part of Charles Barry's rebuilding of the College.

RCSSC/P 316
The Hunterian Museum, by Thomas Hosmer Shepherd, c.1842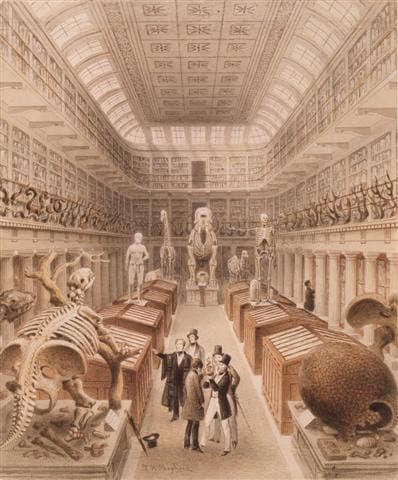 This watercolour shows the larger of the two galleries designed by Charles Barry in the late 1830s. Several 'lost' specimens are depicted. Visitors examine the skeletons of the Mylodon (an extinct giant sloth) and the Glyptodon (an extinct relative of the armadillo). These were transferred to the Natural History Museum in the 1940s.

The skeleton of the elephant Chunee is also shown. Chunee was an attraction at the Exeter 'Change, a menagerie on the Strand. In 1826 his body was dissected at the Royal College of Surgeons. The skeleton was displayed at Bullock's Egyptian Hall, then moved to the College Museum. It was destroyed when the College was bombed in 1941.
RCSSC/P 318
Admission ticket to College Museum