First female President elected to the Royal College of Surgeons
10 Apr 2014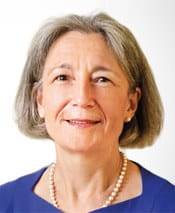 The first female President has been elected to the Royal College of Surgeons in its 214-year history.

Orthopaedic surgeon Miss Clare Marx was made President-elect to the RCS during Council elections, and will take up her appointment in July 2014. The RCS presidency lasts for three years, subject to annual re-election by the College Council.

Miss Marx works as Associate Medical Director at Ipswich Hospital NHS Trust. During her time as an RCS Council member she has championed patient safety and quality measures, including her role as vice-chair of the NHS's Surgical Never Events taskforce. She has worked on initiatives to encourage more women to enter surgery, as well as training and workforce issues.
The current President, Professor Norman Williams, said: "This is an historic day for the College as we welcome the first female president-elect. I know she will perform the role with great aplomb. Her work on patient safety and efforts to improve the quality of care demonstrates her commitment to the values we hold dear."
In addition, Mr David Ward was re-elected as Vice President and Professor Michael Parker was elected as incoming Vice President of the College.
---
Notes to editors
Miss Clare Marx - biography
Clare Marx, an orthopaedic surgeon, works as Associate Medical Director in Ipswich Hospital NHS Trust. After her Chairmanship of the Trauma and Orthopaedic Specialist Advisory Committee, during which the new T&O curriculum was written, she went on to be President of the British Orthopaedic Association 2008-9. She has a keen interest in the Patient Safety agenda and chairs the College Invited Review Mechanism. Also high on her agenda are workforce issues, particularly the low percentage of women entering surgery, the challenges of delivering quality training in reduced working hours, and the need for professionals to continuously strive for improvements in quality and care of their patients.
Mr David Ward - biography
David Ward is a consultant plastic surgeon at Leicester Royal Infirmary. He has extensive experience in surgical examinations, having been an examiner since 1995 and chairman of the committees responsible for the MRCS and FRCS, the ICBSE, and JCIE. He has been a College tutor, BST and HST chairman, and programme director, and served on the SAC. He was elected to Council in 2006. His duties have included Chairman of Examinations and Assessment, lead for Policy Development, and lead for the College's 'Supporting Surgeons in the Workplace' programme and regional development.
Professor Michael Parker - biography
Michael Parker was a consultant surgeon in a district general hospital for 20 years with a specialist interest in laparoscopic surgery. Professor Parker is a member of the Court of Examiners, past President of the Association of Coloproctology of Great Britain and Ireland, past President of the Surgical Section of the Royal Society of Medicine, past President of the Association of Laparoscopic Surgeons of Great Britain and Ireland, and Trustee of the European Society of Coloproctology. In 2010 he initiated a programme of laparoscopic colorectal training in Denmark, and in 2013, after over sixty visits to Jutland, was conferred with an Honorary Chair from the University of Århus.
The Royal College of Surgeons of England is committed to enabling surgeons to achieve and maintain the highest standards of surgical practice and patient care. Registered charity number: 212808
For more information, please contact the RCS press office on:
Out-of hours: 07966 486 832