Books
The library contains modern collections to support the teaching of surgery, dental surgery, anatomy and pathology. It also contains historic collections that can be used to research and reflect on developments in science and medicine from the 15th century onwards. The collections include more than 50,000 books, 2,000 periodical runs and 30,500 pamphlets. Naturally, the focus is predominantly on surgery, dentistry, anatomy and pathology. However, our rich historical collections also cover topics such as public health, military medicine, infectious diseases, botany and natural history, all of which help to set the development of surgery and dentistry within the wider context of medicine and general science.
The older material in the library's collections serves as an outstanding primary resource for researchers from a diverse range of disciplines, proving valuable to medical and scientific historians, humanities scholars, genealogists, and artists. However, the effects of age and use have started to show on these older materials. A number of items need conservation work to ensure that they can continue to play their part in research and exhibitions. Read more about the library's designated collections
Items in need of your support
Library
---
The natural history of Carolina
Item ref: LIB24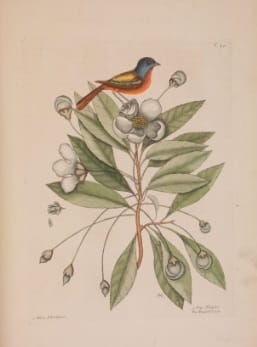 Hunt describes the work as "The most famous colour-plate book of American plant and animal life... A fundamental and original work for the study of American species." Catesby as a young man studied the natural sciences in London and in 1712 travelled to Virginia, returning in 1719 with an extensive collection of plants. This collection attracted the attention of Sir Hans Sloane, who helped fund Catesby's second trip to Carolina, Georgia, Florida and the Bahamas from 1722 to 1729. Back in London, he prepared his natural history of the region, drawing a map from his own knowledge and engraving the majority of the plates to reduce the costs of his venture. The first edition was issued by Catesby in parts, completed in 1747, and was the earliest colored book on American birds. Its popularity was such that a second edition was required within five years of his death, undertaken by George Edwards and printed for C. Marsh, T. Wilcox and B. Stichall in 1754.
Condition:
2 vols. Each volume will need to be pulled down; sections will need to be repaired for resewing. To be rebound in half leather, lettered and with new acid-free endpapers.            
Subject Area: Botany/Herbals 
Estimated conservation cost: £720
---
Traite Theorique et Pratique
Item ref: LIB26
Jean-Pierre Bonnafont was a French doctor who specialised in military medicine and otology. Bonnafont developed a number of instruments and devices in the field of otology. These included a tympanostomy tube and, most notably, an otoscope that included a sophisticated lens system adapted from microscopes and a conical mirror, for improved illumination. Similar technology was later used in the development of endoscopy.
Condition: 
The spine and both boards are detached. There is some staining or foxing to some pages but the text block appears otherwise sound.        
Subject Area: Ear, Nose and Throat Surgery 
Estimated conservation cost: £200 
Library Class Mark: RS/ BON
---
LIB35 Lectures on surgery delivered at St Barts Hospital
Item ref: LIB35
Born in 1783, Lawrence was the son of a surgeon. He was apprenticed to John Abernethy, who was Assistant Surgeon at St Bartholomew's Hospital, in 1799. Afterwards Lawrence held the positions of both Assistant Surgeon and Surgeon at the same hospital.  He was also lecturer on surgery there from 1829-1862. 

He was a member and fellow of the Royal College of Surgeons and sat on Council from 1825-1867. Lawrence obtained the Jacksonian Prize in 1806 with an essay on "Hernia, and the Best Mode of Treatment" and he delivered the Hunterian Oration in 1834 and 1846. In 1857, Lawrence was appointed Sergeant-Surgeon to Queen Victoria and was created a baronet in 1867. 
Condition
The bottom board is detached and the top one loose with some damage to the spine but the text block is intact.
Subject area: General Surgery
Estimated cost of work: £190
Library class mark: VA / LAW