Accreditation and CPD awards
Providing a quality mark for surgical education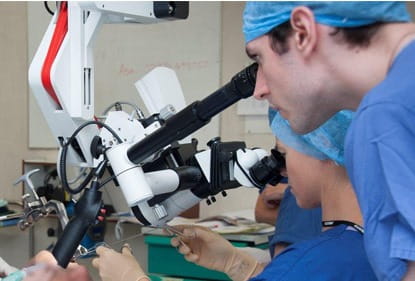 The Royal College of Surgeons of England is committed to supporting and recognising high-quality surgical education. From awarding CPD points to accrediting courses and surgical education centres, the College provides a quality mark for a wide range of activities.
To support the organisers of such activities and ensure the best possible experience for participants, the College offers the following types of accreditations and awards: Centre Accreditation, University Programme Accreditation, Course Accreditation, the Award of CPD Points, Surgical Care Practitioner Programmes, and Senior Clinical Fellowships schemes.
The Royal College of Surgeons of England defines accreditation as the process by which it verifies the quality of educational activities offered by educational organisations. We do so by ensuring that educational programmes, courses or events provide a high-quality learning experience, and have complied with RCS criteria and standards.
We offer education providers a wide range of benefits*, including:
review by leading surgeons and recommendations on quality enhancement;
award of CPD points;
use of the RCS England logo;
listing on the RCS England website and/or Accreditation Portal, and in the RCS England publication the Bulletin;
use of RCS England evaluation support, including questionnaire development, analysis and reporting;
advertising discount.
*Benefits vary according to accredited activity.
Our Accreditation Portal has further information on how to apply for CPD points and accreditation.
Orthopaedic Evaluation of X-Rays (9 May 2023)
Overview: This one-day course focuses on providing participants with the knowledge necessary to make safe evaluations of trauma radiographs and minimise the chances of missing fractures. 
The course is aimed at junior doctors, early middle grades, trauma nurse practitioners and surgical care practitioners involved in the care of trauma patients presenting with fractures.
Venue: Morriston Hospital
Cost: £60
Contact: bappy.basakshsmch@gmail.com 
Newcastle Surgical Training Centre, National Microvascular Course (23 - 24 March 2023)
Overview: This course is designed for core surgical trainees in Plastic Surgery, Otolaryngology and Maxillofacial Surgery who have little or no experience in microsurgery or a refresher course for senior trainees. The course has been structured to gain maximum hands-on experience under the supervision of experienced faculty.
Contacts details: Tel: +44 (0) 191 21 38628; Email: g.capp@nhs.net
Testimonies from event organisers
'It acts as a quality mark for any course or conference you organise'
'It adds additional value to our conference'
'It encourages event attendance'
'It ensures the delegates are receiving a high-quality course, delivered by appropriate speakers'
(Source: RCS England survey of CPD event providers, 2015)