Items You've Funded So Far
All the items listed below have received full funding under the Conserve our Collections scheme. If not already, then they are soon to be on their way to the conservators.
If you have supported an item from the list below and would like know how the conservation work is going or would like to enquire when the work will be completed, please email fundraising@rcseng.ac.uk.
Archive
---
Eighteenth century recipes
Item ref: ARC03
The twelve unbound pages of manuscript receipts (recipes) are in several different hands. The recipes include one for making liquid friar's balsam, to treat asthma, a cough, jaundice and piles.
Some recipes have names included: Mr More, Dr Booha, Dr Furlong, Mrs Hegden and Mr Bethell.
---
RCS Court of Assistants letter book, vol 2
Item ref: ARC08
The Court of Assistants was the College's governing body, 1800-1822. It consisted of a Master and two Wardens and eighteen other members who were elected, by the Court, for life. This volume contains copies of outgoing letters written by the College's Secretary to individual surgeons, benefactors to the College, and to the Royal Navy about examining wounded sailors to determine their fitness to serve.
---
Museum letter book, s 1, vol 2
Item ref: ARC09
This large volume contains copy letters from the College Secretary Edmund Belfour to various recipients. Amongst the recipients are institutions such as the Zoological Society and the British Museum, as well as individuals including William Buckland and Robert Liston. Most of the letters are short acknowledgements of gifts to the museum or library collections.
---
ARC10 Contract for the construction of a new museum at Lincoln's Inn Fields
This contract between the College and Messrs Charles Thomas Lucas and Thomas Lucas gives detailed specifications and schedule of prices for materials and works for erection of a new museum and other buildings including new lecture theatres and the assistant conservator's house.
---
ARC11 Twelve drawings of teeth
Item ref: ARC11
This file contains twelve rough sketches of teeth, for illustrations of Sir John Tome's "Dental physiology and surgery" (published 1848). The drawings appear to have been wrapped around the teeth depicted, which are now in the College's odontological collection, and later flattened out.
---
ARC12 Catalogue of diseased preparations
A Catalogue in three parts, partly in the hand of John Heaviside, listing part of his Museum. The catalogue lists all of the Diseased Preparations, preserved in Spirits; numerically arranged as they were placed in the Museum. Included with each entry is a short account of each case. The catalogue was begun in July 1786 and when Heaviside's collections were sold in the early-19th century, William Clift (first conservator of the Hunterian Museum) purchased a lot of specimens to add to the College's collection.
---
ARC13 Case notes written by Astley Cooper
This volume contains pencil notes of various cases treated by Sir Astley Cooper, arranged according to illness/disease. The first few pages of the volume contain notes on injecting absorbents, drying preparations, the extent of the ossific process at birth, jaundice, piles and polypus.
---
ARC14 Lecture notes by George Ray
The volume contains 'Lectures on Surgery, Delivered at the theatre of St Thomas's Hospital by AP Cooper, Esq in the years 1815-1816.' The notes are taken by George Ray, whose name is inscribed on the fly leaf, 'George Ray, Guy's Hospital, 1815.' An index of lecture titles called 'Surgical lectures' has been bound into the volume. Ray entered Guy's in May 1815 and 12 months later gained his certificate.
---
ARC15 Lecture notes by George R Rodd
Item ref: ARC15
Volume of manuscript notes on the surgical lectures of Sir Astley Cooper taken by George Ramsey Rodd in 1807. An inscription on the fly leaf reads "Geo R Rodd's hasty notes of A Coopers Surgical Lectures 1807." The first lecture is titled "On Constitutional Irritation. On Sympathy".
---
ARC21 Notes on 'Lectures on Surgery given by Mr Astley Cooper of St Thomas's Hospital London, Volume 1' (1797)
These notes are a part of a set of two volumes. The lectures cover a variety of subjects including: wounds of particular arteries; wounds of the throat, abdomen, thorax, brain, tendons, joints; dislocations and fractures of different bones such as the knee and elbows and its treatment; treatment of ulcers and suppurations; inflammations; and operation for hernia.
---
ARC22 Notes on 'Lectures on Surgery given by Mr Astley Cooper of St Thomas's Hospital London, Volume 2' (1797)
Item ref: ARC22
---
ARC23 Drawings and notes by Sir C S Tomes for the third edition of Sir J Tomes' Dental Surgery
Item ref: ARC23
Description:
Sir John Tomes was a major 19th century figure who turned dentistry from a trade requiring no qualifications or training, into the profession we recognise today, with a defined course of study, professional examinations and registration, and a body with legal standing in order to ensure standards are maintained. Tomes' book on dental practice, 'A System of Dental Surgery', first published in 1859, became a standard textbook for decades. The third edition was revised and enlarged by his son, Sir Charles Sissore Tomes. This small leather notebook contains some of the sketches that appear as illustrations in the Third Edition of "Dental Surgery".

Library
---
LIB02 On Harelip and Cleft Palate (1877)
Item ref: LIB02
Francis Mason is noted for his contributions to the development of surgery on the cleft lip and palate. The two papers in this volume originally appeared in St Thomas's Hospital Reports and were published to make them more widely accessible to the surgical profession. This copy was presented to the Library by the author.
---
LIB12 Observations on Strictures 2nd Ed
Item ref: LIB12
William White MRCS (1792-1806) practiced in Bath. He was apothecary, later surgeon, to Bath City Infirmary and Dispensary. He was also surgeon/apothecary to St James's and the Abbey and the Poor House from 1804. He is most noted for recommending the use of use of broad-leaved willow bark in place of quinine.
---
Traite de Maladies des Fosses (1804)
Item ref: LIB13
Joseph François Louis Deschamps (1740-1824) was a celebrated French surgeon who practiced at the Hôpital de La Charité in Paris. Famous for inventing the Deschamps needle which had a long shaft for passing sutures in deep tissues, he is buried in Père Lachaise Cemetery, Paris. 
For this work on the surgery of the ear, nose and throat he claimed to have studied widely both ancient and modern texts and consulted numerous articles in the Mémoires de l'Académie de Chirurgie and the work of such notable surgeons as Sabatier and Lassus.
---
LIB14 Textbook of endocrinology
Item ref: LIB14
Hans Selye (1907-1982) was a celebrated Austrian/ Canadian physician and endocrinologist. He was nominated for the Nobel Prize several times. Born in Vienna, he grew up in Hungary and studied medicine in Prague, where he began to develop his theory that stress was the foundation of many illnesses – noting that patients suffering from different diseases often exhibited similar signs. The Textbook of endocrinology was central to this work for it was through the study of the effect of hormones that he developed his "general adaptation syndrome" (GAS). His theory was that failure to deal with the effects of stress could produce "diseases of adaption" such as ulcers, high blood pressure and heart attacks. His research led to the discovery of steroids. 
Selye published more than 1,700 articles and 39 books on stress and it is said that he revolutionised medical science's understanding of the mind-body relationship. In his initial article he used the word "stress" unaware that it was a specific term in physics and that what he really meant was "strain". This caused confusion when his works came to be translated and, in the end, the word "stress" was used in most European languages – even the French Academy agreed to the term "le stress".
---
Etmullerus Abridg'd (1712)
Item ref: LIB15
Michael Etmuller (1644-1683) was Professor of Physic at the University of Leipzig. Among his remedies, he recommends the use of dried toads. "Transfixed alive in the month of July, dried, powdered and administered in doses of twelve grains on alternate days they furnish an excellent cure for dropsy. Powdered toad is also an effective remedy against incontinence of urine, and is said to be efficacious because of its anodyne character while it's volatile, penetrating salt as acts as a diuretic". 
Thankfully this therapy is now obsolete but Etmuller did accurately observe, in 1667, that the gallbladder could be removed without harm to the patient and that there was no drug that could cure gallstones which is still the case today.
---
Zoography (1807)
Item ref: LIB16
William Wood FLS, FLS (177-1857) originally trained as a surgeon and then turned to the study of natural history. Eventually, he became a leading natural history bookseller. 
This book is important for the black and white aquatints by William Daniel (1769-1837) who was one of the most notable English landscape artists of his day. 
The subjects are renowned for their realism and are placed against exotic scenery reflecting their origin, for example the camel is pictured in front of a view of the Nile with feluccas sailing up and down in the background. William is now most famous for a fabulous six-part work on India called Oriental scenery which he produced with his uncle, the landscape artist Thomas Daniel (1749-1840) and which he must have been working on while producing the plates for the Zoography as it was published between 1795 and 1808.
---
On Cataract: And its treatment
Item ref: LIB17
Charles Guthrie FRCS (1817-1859) was Assistant Surgeon to the Westminster Ophthalmic Hospital, where his father, George James Guthrie FRCS was Surgeon and succeeded him as Surgeon. Sadly he died aged 42 due to a liver complaint. His entry in Lives of the Fellows of the Royal College of Surgeons remarks - "Charles Guthrie was a capable surgeon and a dexterous operator, both in the large operations of general surgery and the more delicate ones on the eye. He was kindly, generous, and very sociable; a cause of much anxiety to his father, who on more than one occasion had to pay for cattle shot on the Thames marshes under the impression that they were big game. He might have done well."
---
Treatise on the Venereal Disease
Item ref: LIB18
The content of this work largely consists of the lectures that Skey gave at the Aldersgate Street School of Medicine in 1838-9. This school was formed by discontented members of St Bartholomew's Hospital and rapidly became one of the largest and best known in London.
Frederic Carpenter Skey (1798-1872) was one of the original 300 Fellows of the RCS. He was a popular lecturer and a skilful and successful surgeon. He wrote and lectured widely on various surgical topics and his textbook on operative surgery became a standard student text. In it he argued vehemently against the use of the knife except as a last resort and recommended the use of tonics and stimulants in preference to the bleeding and leeching which were still current in his day.
Such was his expertise in the field covered by the Practical Treatise that his friend and patient, Benjamin Disraeli, recommended him as Chairman of the first Parliamentary Commission at the Admiralty to inquire into the best mode of dealing with venereal diseases in the Navy and Army. The report of the Committee led to the framing and passing of the Contagious Diseases Act in 1866 and he was awarded the CB in 1868.
---
Treatise on heart and great vessels
Item ref: LIB19
Walter Hayle Walshe (1812-1892) was born in Dublin and, when his widowed mother moved to Paris, studied medicine at the Sorbonne where his teachers included the famous French surgeon Baron Dupuytren. He graduated in Edinburgh in 1835 and began general practice in North London. On the strength of his writing he was appointed Professor of Morbid Anatomy at University College in 1841 at the age of 29 and, seven years later, took over complete responsibility for medical teaching at UC when he was appointed Professor of the Principles and Practice of Medicine. He retired early at the age of 50 and proceeded to publish on such varied topics as "dramatic singing" and linguistics. 
Diseases of the heart, first published in 1851, has been described as being one of the most significant cardiology textbooks of its time. Walshe's obituary in the Lancet commented that it was "one of the most careful and elaborate epitomes of knowledge in the matters with which it deals". He was one of the first to recognise the presystolic character of the direct mitral murmur in mitral stenosis. The writing was based more on close personal observation and detailed analysis than that of the other three important cardiologists of the day, and was enhanced by his wide reading of European medical literature.
---
LIB20 Treatise on the Prevention and Cure of Diseases
Item ref: LIB20
This work was first published in 1769 with the title Domestic medicine or the family physician and it became an instant best seller. It was the first of its kind to be published in Britain and, although the remedies proposed were by no means unique, the approach was, as the book encouraged people to take responsibility for their own health and understand the causes and prevention of disease. Buchan was keen to demystify medical terminology and wrote that "men of every occupation and condition of life might [profitably] avail themselves of a degree of medical knowledge." He was a firm advocate of breast feeding and stipulated that mothers should look after their own children. He thought the high infant mortality of his day a national scandal and castigated his own profession for not taking more trouble to treat the diseases of childhood. 
Domestic Medicine was translated into all the main European languages including Russian. Apparently the Empress of Russia was so impressed with it that she sent Buchan a letter of commendation and a gold medal. A copy of the 6th edition of 1779 was taken on the Bounty and removed by the mutineers for their own use when they landed at Pitcairn.
---
Orthopaedic Book
Item ref: LIB21
---
LIB22 Morris's Human anatomy
Item ref: LIB22
Morris studied at Guy's Hospital, where he was House Surgeon after graduating M.B. Lond. In January, 1870, he was appointed Surgical Registrar at Middlesex Hospital, moving on to posts as Assistant Surgeon, and then Surgeon in the Outpatient Cancer Department. From 1879 until 1889 he was Surgeon to the Hospital and was in charge of the Cancer Department. 
He was appointed Lecturer in Practical Surgery at the Middlesex hospital in 1871, but it was as Lecturer in Anatomy from 1872-1881 that he distinguished himself the most. It gave origin to his most original and permanent publication, The Anatomy of the Joints of Man (1879). He followed this up later by acting as the editor of A Treatise on Human Anatomy, by various authors, 1893. Morris wrote on "The Articulations", other contemporaries contributing. The work ran through a number of editions, this being the fourth edition. This edition was published in five parts but is bound here in two volumes.
---
LIB23 Theatrum botanicum
Item ref: LIB23
Due to the popularity of Thomas Johnson's edition of Gerard's Herball, Parkinson's planned herbal did not appear until 1640. The herbal was a compilation of botanical writings including the unpublished work left by de l'Obel after his death. The Theatrum botanicum contains twenty-eight new species never previously mentioned before. Two of the more famous plants include the strawberry tree and the lady's slipper orchid. The leather binding of our 1640 edition is disintegrating and nearly coming apart.
---
LIB24 The natural history of Carolina - 2 vols
Item ref: LIB24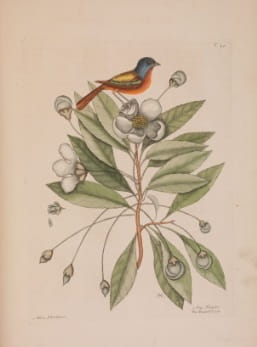 Hunt describes the work as "The most famous colour-plate book of American plant and animal life... A fundamental and original work for the study of American species." Catesby as a young man studied the natural sciences in London and in 1712 travelled to Virginia, returning in 1719 with an extensive collection of plants. This collection attracted the attention of Sir Hans Sloane, who helped fund Catesby's second trip to Carolina, Georgia, Florida and the Bahamas from 1722 to 1729. Back in London, he prepared his natural history of the region, drawing a map from his own knowledge and engraving the majority of the plates to reduce the costs of his venture. The first edition was issued by Catesby in parts, completed in 1747, and was the earliest colored book on American birds. Its popularity was such that a second edition was required within five years of his death, undertaken by George Edwards and printed for C. Marsh, T. Wilcox and B. Stichall in 1754.
---
LIB25 Osteographia
Item ref: LIB25
William Cheselden (1688-1753) built a reputation as 'the foremost teacher of anatomy in the metropolis'. He started a successful course of thirty-five lectures on anatomy, comparative anatomy, and animal economy (physiology), combined with indications for surgical operations, publishing the syllabus in 1711. 
Cheselden published his Osteographia, or, The Anatomy of the Bones in 1733. In it, Cheselden gives full and accurate descriptions of all the bones of the human body. Pathological studies are included, as are animal skeletons, for comparison. Cheselden was the first to use a camera obscura to give precision to his work and this use is illustrated on the title page.
---
LIB27 Annals Historical and Medical
Item ref: LIB27
The Universal Dispensary for Sick Children, founded in 1816 was the first major institution in England devoted solely to care of sick children. The infirmary was founded by John Bunnell Davis, a physician of exceptional energy and determination. Initially Davis was the sole physician to the dispensary with two surgeons and a resident apothecary for support. As with all medical institutions of the time, the dispensary needed financial support from the good and the great to sustain its activities. Davis was tireless in seeking the support of the nobility and by 1821 had gained the support of numerous dukes, earls and marquises before receiving the Royal seal of approval from the King himself. Davis also recruited leading medical men to be "honorary directors", including surgeons John Abernethy, Matthew Baillie, Henry Cline and Astley Cooper. The dispensary was well-used and Davis started to plan for the development into an infirmary, which would be able to accommodate inpatients. Sadly Davis died in 1824, so it was for others to take the infirmary forward. Ultimately the dispensary became the Royal Waterloo Hospital for Children and Women, which only closed in 1976.
---
LIB28 Anatomical examinations
Item ref: LIB28
A complete series of anatomical questions, with answers. The answers arranged so as to form an elementary system of anatomy, and intended as prepatory to examinations at Surgeon's-Hall. London : 1807
"A neat little Compendium, which will be beneficial to those for whose use it is intended." Monthly Review May 1811. 
"The work is a kind of Anatomical Catechism, or like the Pupil and Tutor's guide, the first volume containing the Questions, the second the Answers to them; and the second alone may be used as an Elementary System of Anatomy. The plan is very judicious, and the quantity of matter compressed, by small and very neat printing, into two volumes, is really extraordinary." British Critic, Sept.1808.
---
LIB29 Treatise on diseases
Item ref: LIB29
O'Bryen Bellingham was a busy and skilled general surgeon at St Vincent's Hospital in Dublin, who was also Honorary Librarian at the College of Surgeons [in Ireland]. Although a general surgeon, Bellingham had a long-standing interest in heart disease and he gained an international reputation for his Observations on Aneurism and its Treatment by Compression, (1847). His Treatise on Diseases of the Heart is based on the lectures he gave at St Vincent's Hospital and was published in 1857, shortly after his death. Although Bellingham's contemporaries are better remembered he was a learned and well-respected surgeon who, with this book, provided a comprehensive account of contemporary cardiology in the early days of auscultation and percussion.
---
LIB30 A movable atlas showing the mechanism of vision / Gustave Joseph Witkowski, translated by Henry Power, (1878)
Item ref: LIB30 LIB30
This item is one volume in a series of 11 'movable atlases', that is, books with flaps and pop-up elements to show the structure of the human body in layers. There is a long history of anatomical works with flaps being used as educational items, as they simulate the process of dissection. The earliest such items known date back to the sixteenth century.
This item dates from the 'golden age' of flap books in the late nineteenth century, when the advent of machine printing meant the production of illustrations could become more accurate. It has complex linked pieces that lock together to 'pop up' as the reader opens them. Such a feature might be seen more commonly today in children's books, but it wasn't actually used for works of entertainment until the end of the nineteenth century.
This series was originally published in French. Each of the volumes in English have been translated by different people. This particular item translated by Henry Power FRCS, an ophthalmic surgeon and anatomist who was also engaged in literary work throughout his life.
To note: Other items in the series include the head and neck, the brain and the skeleton. Each item in the series is in need of conservation - each one costing £200. If you would like details on other volumes email
fundraising@rcseng.ac.uk
---
LIB31 Political History of the Devil, ancient and modern
Item ref: LIB31
An interesting little book, and unusual to find in a medical library. Defoe, of course, is most famous for authoring "Robinson Crusoe" but he also wrote books of a supernatural nature and this is one of them.
---
LIB32 Account of the ravages committed in Cylon by Small Pox
Item ref: LIB32
Christie was born at Carnwath, Lanarkshire and educated in Aberdeen. He travelled to the East and became medical superintendent-general in Ceylon. He later returned to England and graduated as a doctor of medicine on 24th June 1809. In 1810, he became a Licentiate of the College of Physicians and in 1813, was appointed physician extraordinary to the Prince Regent. Christie died in1829, aged fifty-six.
---
LIB33 Further observations on the lateral or serpentine curvature of the spine
Item ref: LIB33
John Shaw was a surgeon and lecturer on anatomy. He wrote this work as a supplement to his 1823 book "On the nature and treatment of the distortions to which the spine and the bones of the chest are subject: with an enquiry into the merits of the several modes of practice which have hitherto been followed in the treatment of distortions".

He intended this new book to examine in more minute detail various aspects of the subject, which the earlier work had not.
---
LIB34 Observations on the nature and treatment of fractures of the upper third of the thigh-bone
Item ref: LIB34
Joseph Amesbury was a surgeon and author on orthopaedics and he established the Private Spinal Institution (also known as the Hospital for Spinal Deformities) some time before 1850.  It was a private institution and used his own developed method of treatment for spinal injuries.

Previously in 1837 Amesbury had taken out patents on various apparatus that aimed to relief disorders of the spine, chest or limbs. He later founded the Spinal and General Orthopaedic Association that attempted to treat spinal disease by use of Amesbury's machines in addition to medical staff paid for by the patients.
---
LIB36 On diseases of the throat and windpipe
Item ref: LIB36
George Gibb was born in Montreal, Canada in 1821 but also spent time in London where he established a practice. He first published this book in 1860 and it was well- received. Therefore, in 1864, he published a second edition of which this is a copy.
In 1863, after writing a book on the laryngoscope he became known as London's foremost laryngologist and a pioneer in the use of the laryngoscope.
---
LIB37 Shaw, John (1792-1827) On the nature and treatment of the Distortions to which the spine, and the bones of the chest are subject.
Item ref: LIB37
---
LIB39 Burnett, Charles H. System of Diseases of the Ear, Nose and Throat. Volume II.
Item ref: LIB39
---
LIB40 Dissertation de Origine, progressu et dignitate medicine.
Item ref: LIB40
---
LIB41 Essay on poisons embracing their symptons, treatments, tests and morbid appearances
Item ref: LIB41
---
LIB42 De Chauliac, Guy, La grande chirurgie de me (Vol. 1) Paris 1683
Item ref: LIB42
---
LIB43 Burns, John. The Principles of Midwifery; including the Diseases of Women and Children. 2nd edition. (1811)
Item ref: LIB43
---
LIB44 Hall, Marshall.Principles of the theory and practice of medicine
Item ref: LIB44
---
LIB45 Travers, Benjamin. A Further Inquiry concerning Constitutional Irritation and the Pathology of the Nervous System.
Item ref: LIB45
---
LIB46 Quain, Jones Elements of Anatomy, 4th edition
Item ref: LIB46
---
LIB47 Pravaz, CG. Méthode novelle pour le traitement des déviations de las colonne vertebrate.
Item ref: LIB47
---
LIB48 Philip, APW. A Treatise on the More Obscure Affections of the Brain on which the nature and successful treatment of many chronic conditions depend, being the Gulstonian Lectures.
Item ref: LIB48
---
LIB49 Calendars of the Royal College of Surgeons of England.
Item ref: LIB49
The College calendars record college activity for the period 1868–1965. They include pursuits not covered by Council minutes, such as museum and library reports and the awards of eponymous lectures and prizes.

The earliest two: those from 1869 and 1870 have both received binding conservation thanks to the success of the 2019 Conserve our Collections summer appeal.

---
LIB38 Burnett, Charles H. System of Diseases of the Ear, Nose and Throat. Volume I
Item ref: LIB38
Museum
---
MUS018 - Pocket Surgical Instruments set owned by Explorer Mungo Park
Item ref: MUS18
---
Surgical instrument set
Item ref: MUS08
This set, made by Evans of London, contains instruments for amputation and trepanation - two of the most commonly performed operations in the early nineteenth-century. Almost complete, it comprises of an amputation saw and amputation knives, a metacarpal saw, a screw tourniquet, curved needles, artery forceps, bone cutting forceps, spring skull forceps, a skull saw, a trephine with detachable handle, and a bone brush. The instruments are held within in a fitted walnut case lined with red velvet.
---
MUS09 Dentist scaling the Ladies Teeth
Item ref: MUS09
RCSSC/P 3214 Caricature of an eighteenth-century dentist using a tooth scraper on a female patient, printed for Carington Bowles, London, probably 1770s or 1780s. 
Mezzotint, 20cm by 25cm
---
MUS10 Easing the Tooth Ache
Item ref: MUS10
RCSSC/P 3216 Caricature of a dentist pulling a patient's tooth, engraved by T. As (James Gilray), and published by H Humphrey, 1796. 
Coloured stipple engraving, cropped, 13.6cm by 20cm
---
MUS11 Tooth Drawer
Item ref: MUS11
Caricature of a dentist pulling a patient's tooth engraved by T. As (James Gilray), and published by H Humphrey, 1796. Coloured stipple engraving, cropped, 13.6cm by 20cm.
---
MUS12 Mid to late 18th century British amputation set
Item ref: MUS12
RCSIC/I 51: The set includes a bow amputation saw with a separate key to tighten or loosed the saw's blade, a metacarpal saw, forceps for tying ligatures, a curved amputation knife, a part curved amputation knife, a bistoury, and three suture needles stored under an ivory handled lid. The tenaculum is missing. Some instruments are made by Savigny, others are marked by Bodker.
---
MUS14 Portrait of Astley Paston Cooper, oil on canvas, by Thomas Lawrence, unsigned, 1828
Item ref: MUS14
The son of a Norfolk clergyman, Astley Cooper (1768-1841) trained in London under Henry Cline and also attended John Hunter's lectures. In 1800 he was appointed surgeon to Guy's Hospital. Cooper became one of the best known – and best paid – surgeons of his generation. He received a baronetcy for his success in treating George IV and was subsequently appointed sergeant surgeon to George IV, William IV and Queen Victoria. He served as president of the Royal College of Surgeons in 1827and 1836. In addition to his surgical practice Cooper carried out studies on anatomy, pathology and physiology; he was elected a vice-president of the Royal Society in 1830.
Sir Thomas Lawrence PRA FRS (1769 –1830) was a leading English portrait painter and the fourth president of the Royal Academy.
---
MUS16 - Charlotte Waite's Samplers
Item ref: MUS16
In June 1848, Charlotte Waite was injured while falling from a carriage seat in Saltburn, North Yorkshire. She was only 11 years old. Surgeons had no choice but to amputate her leg. She made these two small cross-stitch samplers to commemorate the operation. In some respects, Charlotte was lucky; she had access to anaesthetic. Her surgery was performed just 7 months after the Edinburgh Surgeon, James Young Simpson, first reported the anaesthetic qualities of chloroform, and18 months after the first operation under ether in Britain. Charlotte made a good recovery from the amputation and went on to raise ten children.
---
MUS15 - Case of post-morem instruments, c1800
Item ref: MUS15
This set was fully funded for conservation by the Conserve our Collections summer appeal.  The set was dirty, the case lid almost detached and the covering was peeling and the silk lid lining had shattered.
The instruments - consisting of forceps, scalpels, scissors, saws, needles, a skull rest and a wrench were tarnished and corroded, and their handles were stained.
The case and instruments have been cleaned; a protective wax coating applied to the metal surfaces of the instruments and buffed to polish; the fraying silk textile lining has been re-laid and secured; the lifting case covering and loose lid hinges has been stabilised.