Flexible Working Advisor
Miss Claire Murphy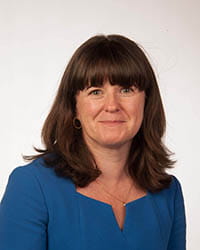 I am a Consultant Oncoplastic Breast Surgeon at Airedale NHS Trust in North Yorkshire, At the time of updating this profile in 2017, I have been a Consultant for 5 years . I'm a  Clinical and Educational Supervisor for foundation trainees, Clinical Supervisor for core and speciality trainees in General Surgery and an Associate Training Programme Director for General Surgery in Yorkshire and Humber. I teach regularly on the Training the Trainers course.

I have been married for 23 years and have three children (although one is now technically an adult). 

I was born and grew up in Leeds, went to a comprehensive school in north Leeds and on to the Royal Free Hospital School of Medicine. My parents had friends who were doctors, who were immensely helpful, guiding me into work experience and advising me on how to make the most of my 'just good enough' academic achievements 

At the Royal Free I was inspired to pursue a career in surgery. I won't  embarrass the various registrars and consultants I worked with by naming them here ( but if you were there between 1987 -1992, it might be you) . I did house jobs at the Royal Free and St James Hospital, Leeds. Those were the days just before the New Deal when we worked a 1:4 or 1:5 on call rotawith our own team, I remember it being exhausting but fun. I performed my first appendectomies as a House Officer. I recall one registrar who had recently returned from Hong Kong, with fancy ideas about keyhole surgery, twenty odd years on, I still hear debates about whether or not laparoscopic appendectomy represents an advance in surgical treatment.

By this time I had met my future husband on the BMA's Medical Students Committee, we turned out to have several mutual friends from Leeds who he had met at Newcastle University. I spent a lot of time on the M1 and asleep in cinemas. Our group of mutual friends have stayed together, holidayed together and between us had nearly twenty children who are now also friends. Between us, we have moved regions and specialities, lost partners and parents, travelled abroad, trained full-time, less than full-timeand taken career breaks. Alongside my family and my career this group of people have played a huge part in my life, they also illustrate the huge diversity of opportunities available within a medical career and just what is possible in terms of work-life balance. 

My basic surgical training was at North Manchester and Booth Hall Hospitals. I remember fondly the orthopaedic surgeons at North Manchester and their team working but ultimately they couldn't sway me from general surgery. During my time at Booth Hall Children's Hospital, I was nearly persuaded into Paediatric surgery. I learnt how to take out an appendix through a 2 cm incision and that you can close any wound with a subcuticular suture. I came across a couple of paediatric trainees blazing the trail for job sharing.  At that time Manchester had three children's hospitals and I also saw first-hand how difficult it is to reconfigure services in the presence of strong local opinion and political interference. 

My first son was born while I was a senior SHO, my daughter during my research job and son number two when I was an SpR. My younger son has Down's Syndrome and although I don't feel having a child with special needs has had a detrimental effect on my career, it has made me very aware of the real compromises some parents have to make when a child is sick or disabled. 

I was the first post-Calman trainee to train flexibly in the Yorkshire region. I worked 80% of fulltime for over 5 years in four different hospitals, fitting into the rota in a variety of different ways. Mostly I took the lead in organising my job plan and place on the on call rota with the support of the TPD. I was fortunate to have supernumerary funding throughout, aside from   one year when I filled a fulltime slot. I was almost certainly the oldest surgical registrar in the region by the time I got my CCT. What can I say, Je ne regret rien

Outside of work and parenting, I enjoy the Yorkshire Dales and only really started exercising seriously a few years ago when my son left me behind on the Yorkshire Three Peaks. I can't keep up with him but I can still do it and move the next day I can sew, knit and cook. I have been a Leeds United supporter on and off (on again this season) over the years and  through my boys I have also become a follower of Yorkshire cricket. 
---
Over the last few years we have seen big changes in the way LTFT training is accommodated in surgery; this is partly due to increased numbers of LTFT trainees, a consequent increase in experience among trainers and improved levels of acceptance. However, ironically the problems created by the overall fall in trainee numbers has made it easier to place LTFT trainees. As an associate TPD I see more and more LTFT trainees going into full-time slots and Trusts filling the gaps in the same way they fill the other rota gaps.
Previously LETBs had policies restricting less than full-time trainees to 50 or 60% working patterns. This is inflexible and is often not ideal for surgical trainees. The increased use of full-time slots means many more LTFT trainees can work 60, 70 or 80%.
I am aware that there are still major attitudinal problems in some surgical specialities, and regional variations exist. The message I want to get across is that LTFT training in surgery is possible. In the words of Barack Obama, 'Yes we can!'
I'd like to hear from as many of you as possible with your experiences of LTFT training.
Have you had a successful experience you'd like to share?
Have you worked in a job that could be covered in 4 days?
Have you considered LTFT training but not pursued it?

What stopped you?
Were you put off by advice from a senior colleague?
Did deanery policies influence your decision?

Have you struggled as a LTFT trainee?

Why?
Who made it difficult?

Have you worked on the same firm or in the same department as a LTFT trainee?

Was there any impact on your training?
Did you have to share lists?

Do you work in a department that could accommodate a LTFT trainee?
Are there more registrar slots than registrars in your deanery?
Please email me: cmurphy@rsceng.ac.uk
I'm also on Twitter as @Leedsmurph