Physician Associate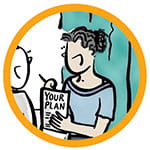 A Physician Associate is a new healthcare professional who, while not a doctor, works to the medical model, with the attitudes, skills and knowledge base to deliver holistic care and treatment within the general medical and/or general practice team under defined levels of supervision. Read more in our case study.
Did you know that Physician Associates are now eligible to join the RCS as associate members? As an associate member, you will be able to access a range of valuable benefits and access a 50% discount on membership during 2018. Find out more and join today.
Area of practice
Inpatient (ward, theatre, Emergency Department) and Outpatient (clinic).
Overview of tasks and activities
Clinical duties
Formulate and document a diagnosis, having taken a history and completed a physical examination
Develop a comprehensive patient management plan in light of the individual characteristics, background and circumstances of the patient; maintain and deliver the clinical management of the patient on behalf of the supervising physician while the patient travels through a complete episode of care
Perform diagnostic and therapeutic procedures and prescribe medications (subject to the necessary legislation)
Request and interpret diagnostic studies and undertake patient education, counselling and health promotion
Run clinics (i.e. sexual health, family planning or minor surgery)
Administrative duties 
Initiate and maintain accurate, timely and relevant medical records
Involvement in clinical governance, improvement activity, and quality audit 
Assist with meeting quality and outcomes framework targets (at GP practices)
Co-ordinate research activity
Liaison between patients and doctors 
Communicate effectively and appropriately with patients and carers even when communication is difficult
Make sure, wherever practical, that arrangements are made to meet patients' language and communication needs 
Demonstrate the ability to utilise the clinician–patient encounter therapeutically
Perform a flexible and holistic assessment in order to make an appropriate management plan
Facilitate patient involvement in management, planning and control of their health and illness 
Appropriately and sensitively identify and utilise opportunities for patient and carer education 
Supervision and management
The Physician Associate is responsible for their own practice, although they will always work under the supervision of a designated senior medical practitioner, and the medical consultant or general practitioner will retain ultimate responsibility for the clinical management of the patient.
Autonomy
Physician Associates are not autonomous, and work under the supervision of doctors
PAs cannot currently independently prescribe medicines or request ionising radiation
Eligibility for training
Two routes of entry:

1. Biomedical or biological science degree (2:1 hons)

2. Prior experience as a registered healthcare professional (most commonly nurse, healthcare assistant or paramedic)
Training
PAs have to meet a nationally approved standard of training and practice, required under the competence and curriculum framework for physician associates laid down by the Faculty of Physician Associates
The two year training programme focuses principally on general adult medicine in hospital and general practice, rather than specialty care
There will also be 1,600 hours of clinical training, taking place in a range of settings, including 350 hours in general hospital medicine
Trainees typically spend 90 hours in mental health, surgery, obstetrics and gynaecology, and paediatrics
Trainee PAs must pass their programme assessments as well as a national examination of knowledge and skills
PAs must retake the national exam every six years, and meet CPD requirements in order to re-certify 
Professional accountability
Currently no statutory professional regulation.