Surgical First Assistant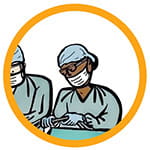 Surgical First Assistants are registered healthcare professionals who provide continuous competent and dedicated assistance under the direct supervision of the operating surgeon throughout the procedure, whilst not performing any form of surgical intervention. Read a real-life case study, written by a Surgical First Assistant.
Did you know that Surgical First Assistants are now eligible to join the RCS as associate members? As an associate member, you will be able to access a range of valuable benefits and access a 50% discount on membership during 2018. Find out more and join today.
Area of practice
Primarily intra-operative work, although pre- and post-operative visits may also be part of the role. 
Overview of tasks and activities
Enhancing the communication link between theatre, patient and ward
Involvement in the team completion of the WHO surgical safety checklist for all surgical interventions
Male urethral catheterisation
Assistance with patient positioning, including tissue viability assessment
Skin preparation prior to surgery and draping
Use and maintenance of specialised surgical equipment relevant to the area of their work
Handling of tissues and manipulating of organs for exposure or access under direct observation of the operating surgeon
Superficial and deep tissue retraction
Assistance with haemostasis to secure and maintain a clear operating field, including indirect application of surgical diathermy as directed by the operating surgeon
Use of suctions guided by the operating surgeon
Camera and instrument manipulation under the direction of the surgeon during minimal access surgery
Cutting of deep sutures and ligatures
Assistance with wound closure – cutting of sutures and ligatures
Application of dressings
Assistance with the transfer of patients to the postoperative anaesthetic care unit
Supervision and management
The SFA is responsible to the theatre management team and is clinically responsible to the consultant surgeon, who delegates aspects of surgical assistance to the SFA
As a registered practitioner the SFA also has a professional and legal responsibility to the patient through professional codes of conduct and a duty of care
Day to day work under the direction of the operating surgeon and the theatre management team
Autonomy
The surgical first assistant works under the direct supervision of a surgeon who must remain in theatre until surgery is completed.
Eligibility for training
Registration as a healthcare professional (e.g. nurse, operating department practitioner, or psychotherapist)
1-2 years of post-registration experience
Aptitude for clinical and operative practice
Training
Successful completion of a nationally recognised programme of study, such as a University accredited programme or an in-house training package supported by the AfPP competency toolkit
Universities that offer accredited modules for SFAs must ensure that the programme offered follows the recommendations of the Perioperative Care Collaborative
Professional accountability
Nursing and Midwifery Council, or Health and Care Professions Council, for their original, non-extended roles
It is recommended that SCPs follow the Association for Perioperative Practice (AfPP) voluntary code of conduct for registered practitioners working in advanced surgical roles
Banding
Variable, depending on organisation.