John Hunter
John Hunter (1728-1793) came to London in 1748 at the age of 20 and worked as an assistant in the anatomy school of his elder brother William (1718-83), who was already an established physician and obstetrician. Under William's direction, John learnt human anatomy and showed great aptitude in the dissection and preparation of specimens. William also arranged for him to study under the eminent surgeons William Cheselden (1688-1752) and Percivall Pott (1714-88).

Hunter was commissioned as an army surgeon in 1760 and spent three years in France and Portugal. As well as developing new ideas on the treatment of common ailments - such as gunshot wounds and venereal disease - Hunter spent time collecting specimens of lizards and other animals. On his return to England in 1763 he began to build up his private practice. His scientific work was rewarded in 1767 when he was elected a Fellow of the Royal Society. In 1768 he was elected Surgeon to St George's Hospital, and in 1783 he moved to a large house in Leicester Square, which enabled him to take resident pupils and to arrange his collection into a teaching museum.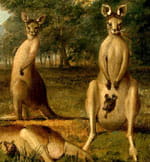 Hunter devoted all his resources to his museum. It included nearly 14,000 preparations of more than 500 different species of plants and animals. As his reputation grew, he was supplied with rare specimens such as kangaroos brought back by Sir Joseph Banks from James Cook's voyage of 1768-71.

While most of his contemporaries taught only human anatomy, Hunter's lectures stressed the relationship between structure and function in all kinds of living creatures. Hunter believed that surgeons should understand how the body adapted to and compensated for damage due to injury, disease or environmental changes. He encouraged students such as Edward Jenner and Astley Cooper to carry out experimental research and to apply the knowledge gained to the treatment of patients.
By the 1780s Hunter enjoyed widespread recognition as the leading teacher of surgery of his time. However, the acclaim did little to mellow his blunt-speaking and argumentative nature. His temper was to be his downfall: Hunter died in 1793 after suffering a fit during an argument at St George's Hospital over the acceptance of students for training.
Hunter is today remembered as a founder of `scientific surgery'. He was unique in seeking to provide an experimental basis to surgical practice, and his museum is a lasting record of his pioneering work.