Learning
Exhibiting Difference supported learning inside and outside of the classroom through the creative response project with London secondary schools, the offer of facilitated visits to the project exhibition and museums permanent galleries with museum experts, the creation of a printed pack of learning resources to prepare for and follow up a visit to the museum, the production of downloadable resources for students and teachers to use in the classroom and the creation of a set of materials to guide students through the exhibition and museum on a teacher-led visit.
Creative partnership with schools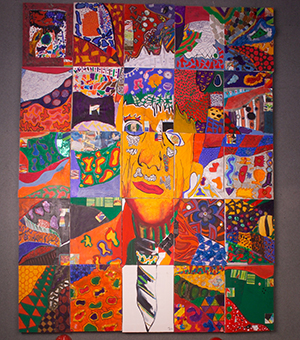 Over 200 secondary school students aged between 11 and 15 years have created this amazing display. Working with four professional artists, the students responded to the visual images from the exhibition 'A Visible Difference: skin, race and identity 1720-1820.

Students were encouraged to think about the people with skin pigmentation conditions shown in the exhibition, in particular the children George Alexander Gratton and Mary Sabina. The young people were asked to consider their own attitudes and behaviour towards people with a visible difference. They also discussed identity, self image, and the need to respect difference and combat prejudice and discrimination.
Commemorating and celebrating the creative partnerships
The Hunterian Museum produced a booklet in collaboration with the creative partners to commemorate and celebrate the work of the students, teachers and artists involved in this project.
Download a copy of the booklet