Sir Ashton Lever's Holophusikon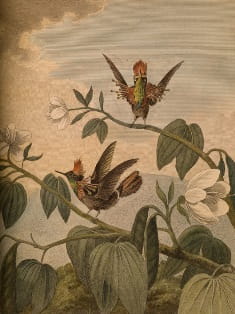 When Sir Ashton Lever opened the 'Holophusikon' in 1775 it became one of the most fashionable attractions in London. He displayed this exotic collection of animals and artifacts – commonly known as the Leverian Museum – in Leicester House, a former royal residence on Leicester Square.

Only the affluent could afford the high entrance fee, but the Leverian was still easier to access than the British Museum, which had complicated restrictions and limited opening hours.

Lever wanted his displays to inspire wonder. Visitors were dazzled by bird taxidermy in white or mirrored boxes. Objects were arranged for aesthetic or comic effect; one case contrasted tiny hummingbirds with a huge ostrich. Even so, the museum was recognised by naturalists as a reputable collection and an important source for rare species.
Although popular, the Holophusikon was not a financial success. High running costs and expensive collecting habits bankrupted Lever. To raise funds he held a lottery with the entire museum as the prize. Of 36,000 tickets he only sold 8,000: unfortunately for him the winning ticket was among them. The winner, James Parkinson, moved the museum to a cheaper location near Blackfriars Bridge. It remained here until 1806, when Parkinson sold the collection at auction. Buyers included museum proprietor William Bullock, the Imperial Museum in Vienna and the Royal College of Surgeons.
Illustration from Museum Leverianum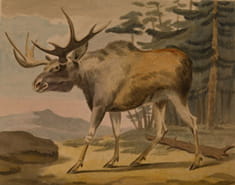 The Royal College of Surgeons purchased a copy of the catalogue Museum Leverianum, containing select specimens from the museum of the late Sir Ashton Lever, George Shaw, 1792-96 at the sale of the Leverian Collection in 1806. A number of specimens acquired by the College are depicted. This elk (Alces alces) was displayed in the original College Museum. In 1909 it was transferred to the British Museum, along with other stuffed animals from Lever's collection.
List of specimens purchased by the Royal College of Surgeons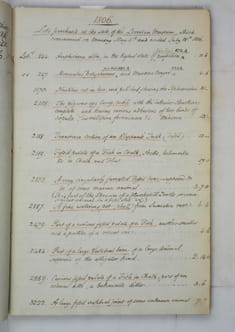 These notes were written by Museum Conservator William Clift. The College spent £94 on 79 lots. Further items were purchased by private contract after the sale. It is likely that the Leverian Museum's proprietor, James Parkinson, had neglected the collection. Many of the specimens bought by the College were in poor condition; only the items underlined in red were considered 'worthy of being preserved'.

Unfortunately nothing from Lever's collection can be traced in the Hunterian Museum today. Some specimens were transferred to the British Museum. Others were destroyed when the College was bombed in 1941.