John Heaviside's Collection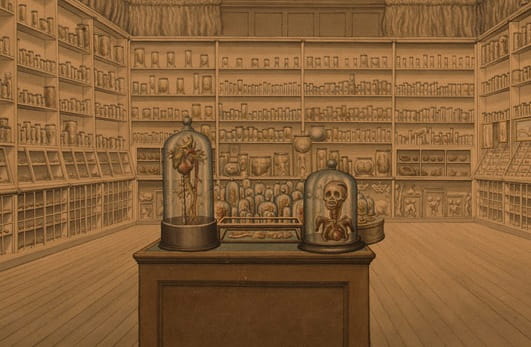 In 1793 the surgeon John Heaviside used his inheritance to purchase Henry Watkins's collection of anatomical specimens. Heaviside was not a private anatomy lecturer – his museum was not intended for teaching or research. Instead it enhanced his social and professional credentials and brought him reputation as 'an anatomist'.

Heaviside displayed his museum in his home at 14 Hanover Square. A contemporary image shows rows of glass pots, bell jars and drawers, containing healthy and diseased preparations from humans and animals. The museum was open every Friday evening in the winter and spring to 'respectable gentlemen', whether medical or otherwise.
The museum undoubtedly raised Heaviside's profile and aided his election to the Royal Society. But some of his peers did not approve of him buying rather than making so many preparations. Keen to emphasise the superiority of John Hunter's collection at the Royal College of Surgeons' Museum, conservator William Clift claimed that: 'most of [Heaviside's] best specimens were purchased at sales; Mr Heaviside being rather a collector than an anatomist, his descriptions were generally vague and pompous and occasionally bordering on the marvellous, apparently quite unintentionally.'
Despite this Clift bought specimens for the College Museum when the collection was auctioned after Heaviside's death.
Portrait of John Heaviside, mezzotint by Richard Earlom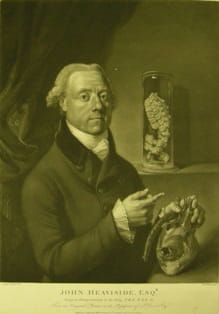 John Heaviside was a surgeon and collector. This portrait emphasises his identity as 'an anatomist'. Although Heaviside prepared many of his own specimens, he was criticised for passing off the work of others as his own. Both of the preparations in this portrait were purchased from the collections of other surgeons. The dried human heart was prepared by the anatomist Henry Watson in the 1780s. The section of human spine on the mantelpiece may have been from the collection of the famous surgeon Percivall Pott.

RCSSC/P 1727
Invitation to John Heaviside's Museum
Larva of a hercules beetle, mounted with an adult beetle from John Hunter's collection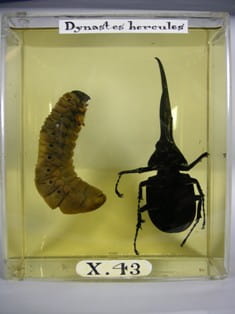 This was among the specimens purchased by the College at the sale of Heaviside's collection in 1829. Museum conservator William Clift recorded the following details:

Lot 1923 'D.16. A very fine specimen of the larva of scarabous hercules, or Elephant Beetle.

£0:7:6'

RCSHC/X 43 Part 2
Skull with a large tumour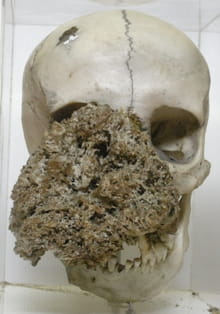 'Lot 1391. No. A.17. This specimen is the skull of Eleanor … who was a patient in the Westminster Hospital in the year [blank].

£8: 0: 0'

RCSPC/HS 72a.1