William Bullock's Egyptian Hall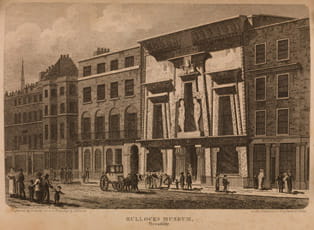 William Bullock was a showman, collector and naturalist. In 1809 he moved his growing collection from Liverpool to London. He began at 22 Piccadilly, then moved down the street to a larger building styled as an Egyptian temple.

The 'Egyptian Hall' contained around 32,000 objects of natural history, ethnography and archaeology. Bullock wanted to appeal to both the 'scientific naturalist' and the general visitor. He arranged his specimens according to Linnaean classification and included information on animals' habitats, feeding and behaviours.
Bullock charged one shilling admission to the main museum and an extra shilling to visit the 'Pantherion'. This novel gallery, opened in 1812, exhibited animals in naturalistic settings. The visitor entered the Pantherion through a long corridor, made to look like a rocky cave, which opened into a tropical forest. Accurate models of exotic plants and painted panoramic backdrops aimed to give all the appearance of reality.
An astute businessman, Bullock knew that novelty was the key to maintaining his audience. In 1819 he auctioned his permanent collection and hosted temporary exhibitions instead. They included displays about Lapland and Mexico. In 1825 Bullock sold his lease, and the hall was finally demolished in 1905.
Fossil molar of a mastodon (Mastodon americanus)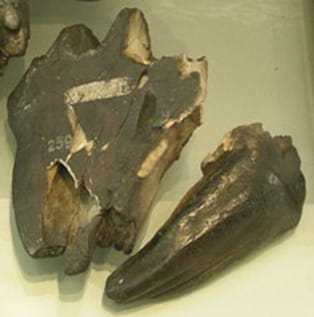 This specimen was damaged when the College was bombed in May 1941.

RCSHM/CO 2591
Title page from A Companion to the London Museum, 1814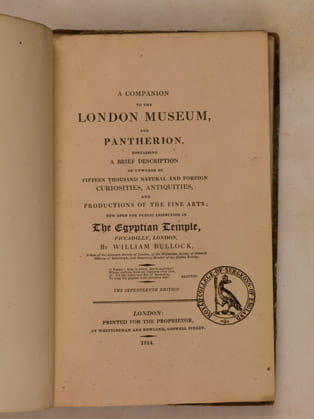 Memorandum of specimens bought by the Royal College of Surgeons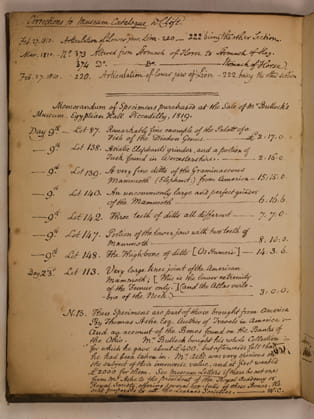 Bullock also donated many specimens to the College between 1812 and 1823.

MS0007/1/2/1/2
The hind foot of a reindeer (Rangifer tarandus)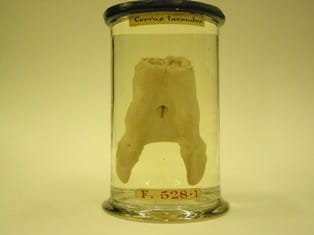 In 1821 Bullock imported a small herd of reindeer from Scandinavia, to breed them for meat. Unfortunately most of the animals died soon after arriving in London. The bodies of two were presented to the Royal College of Surgeons Museum. This foot was prepared to show the scent gland between the toes. An antler is also preserved. Bullock employed a Sámi family to care for the herd. They agreed to take part in an exhibition about their culture in 1822, held at the Egyptian Hall.
RCSHM/F 528.1