Transplant and Life
Transplant and Life
22 November 2016 - 20 May 2017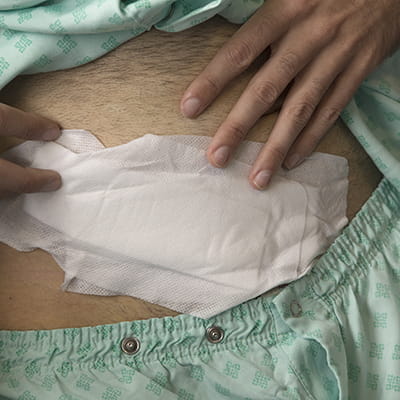 Artists Tim Wainwright and John Wynne, working with patients at the Royal Free and Harefield hospitals, used sound, photography and video to reveal intimate patient experiences and bring the sights and sounds of patients into the museum, a place usually associated with specimens, hardware, and clinical heroes.

This exhibition gave voice to the patient experience and raised awareness of the importance of transplantation and the challenges surrounding it.
Find out more about Transplant and Life by using the digital guide www.transplantandlife.uk
This includes the stories of patients, live donors, families and medical professionals who have participated in this project.
Image right: Jonny's bandage, copyright Tim Wainwright 2016
Transplant and Life was generously supported by:
The Hunterian Museum would like to thank all the people involved as participants and the following organisations for funding the project:
Hunterian Museum Trustees, Organ Recovery Systems, Bridge to Life, PharmaPal, Mr Nick Lane, Oxford CommSciCom and NHS Blood and Transplant.
Transplant and Life used products developed and supplied by:
City Insights, NES, Roche AV, Metro Imaging and Sound Directions.