Together, we're changing the face of surgery
The Royal College of Surgeons of England
The Royal College of Surgeons of England
NHSBT amber alert and the use of tranexamic acid
Read the intercollegiate implementation group's guidance on the use of tranexamic acid in surgery following the current amber alert.
Guidance for use of TXA in surgery
Clare Marx
With great sadness, we share the news that former Royal College of Surgeons of England President, Dame Clare Marx CBE, DL, MBBS, PRCS, has died.
Our former President has passed away
Sustainability in Surgery
Reducing environmental impact of operating theatres
Events
---
We have an exciting calendar full of activities, from our upcoming conferences to our webinars programme.
Browse events
Get involved
---
We want you to help change the face of surgery. You can contribute to our research, publications, faculty, networks, fundraising and more.
Get involved
The Bulletin
---
In this issue, we look at the research conduct spectrum and how the pressure to publish has a negative effect on ethical practices within surgical research. We also introduce our new column, Culture Matters.
Read this month's issue
BENEFITS FOR MEMBERS
Whatever stage of your surgical career you're at, RCS membership will provide you with the knowledge, skills and development and support you need.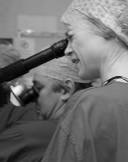 SUPPORT OUR WORK
The RCS is a charity and relies on your support to fund research, training and conserving our heritage collections - all in the aim of advancing surgical care.