Bulletin
The Bulletin of the Royal College of Surgeons is published bi-monthly, in January, March, May, July, September and November.
Latest issue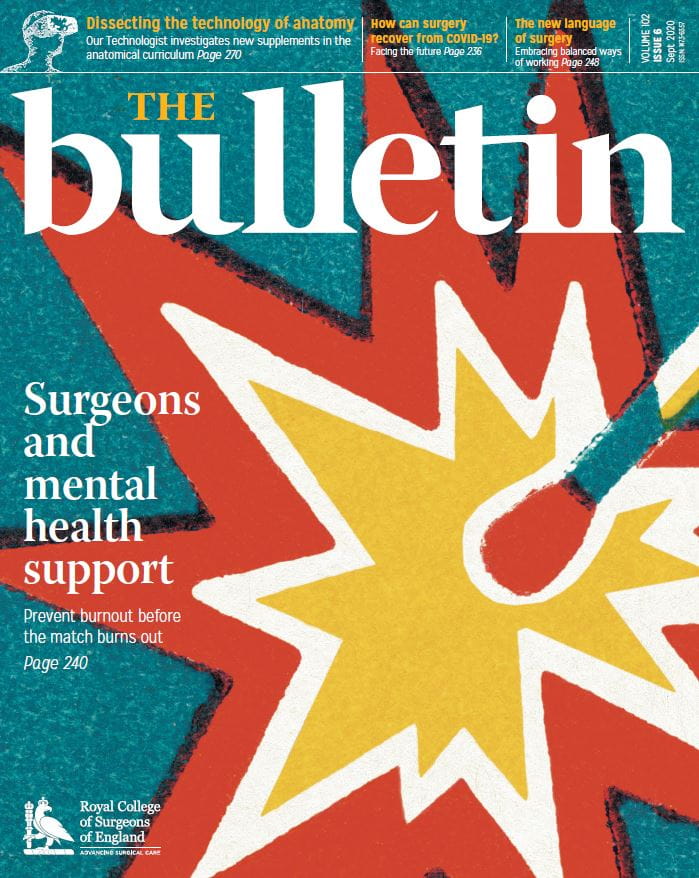 September 2020
Featured article
Surgeons and mental health support
'Don't wait until you are broken.' We investigate why prevention is better than cure and highlight the resources available to support surgeons in the workplace.
Erin Dean
---
Editor-in-Chief: Jonathan Glass
Editor: Kenneth Keogh
Associate Editor: Michelle Jones
Trainees' Bulletin Editor: Josh Burke
Political Editor: Mark Loughridge
Technology Editor: Ryan Kerstein
Editorial Officer: Victoria Ciborowska
Production Editor: Olivia Stevenson
ISSN: 1473-6357
Online ISSN: 1478-7075
Frequency: Published bimonthly.
Ahead of print articles: You can keep up to date with relevant research by reading our latest content.
Readership: Consultant surgeons and trainees in all surgical specialties.
Online access: The Bulletin is published completely Open Access on our publishing site and can be accessed free of charge by anybody.
Subscribe: You can subscribe to the Bulletin in print.
Membership: Members of the College receive the Bulletin in print and online as part of their membership, along with many other benefits. Find out more about joining.
Read more
---
Issue search
Search all past issues of the Bulletin on our publishing site.
Further information and queries
Email
Telephone
020 7869 6168
We are able to answer calls Monday to Friday, 9am - 5pm