Coat of Arms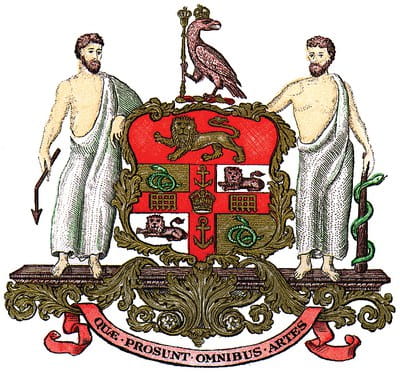 In 1745 the Company of Barber-Surgeons split to form the Worshipful Company of Barbers and the Company (later Royal College) of Surgeons. This split not only created two bodies, but also meant that the surgeons no longer had a coat of arms. Rather than seeking a patent from the Kings of Arms, the Company paid a man named Mr. Brookshead three guineas to design one.
The original coat of arms
The original coat of arms featured the sons of Aesculapius (Greek god of healing); two brothers who were surgeons at the siege of Troy. On the left side is Machaon who is depicted holding the broken dart reportedly extracted from the side of King Menelaus and which symbolises the healing of wounds. On the right side is Podalirus, a physician, who was originally featured holding a surgeon's knife.
Also included were:
knotted serpents, each on a gold quarter of the shield, represent healing;
smaller lions, set on silver, which may stand for professional vigilance;
gold portcullises, emblems of defence, which may have a military significance, alluding to the College's ancient function of examining surgeons for the army;
The portcullises may also represent the arms of the City of Westminster. The anchors may refer to the College's role examining surgeons for the Navy and the anchor is also the badge of the Parish of St. Clement Danes, where the College is situated. The eagle in the crest (which is now the College logo) symbolises fortitude.
Nineteenth century changes
In 1800, the College was granted a Royal Charter and although the design was kept roughly the same, Podalirus was depicted bearing his father's rod entwined by a serpent, also an emblem of healing.
In 1822, a supplementary charter was granted to the College by George IV who also gifted the College a mace. In recognition of this new charter and gift, a mace and a crown were added to the Eagle to symbolise the royal status of the College. A Royal Warrant was issued to the Kings of Arms to command them to issue letters patent which officially granted armorial bearings to the College. The Lion of England was also added along with the cross of St. George bearing a crown to further symbolise the special honour granted to the College.
The motto – QUAE PROSUNT OMNIBUS ARTES – means: "the arts which are of service to all".