Surgical Care Practitioner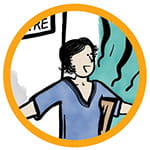 Surgical Care Practitioners are registered non-medical healthcare professionals who have extended the scope of their practice by completing an accredited training programme. They work as members of the surgical team and perform surgical interventions and pre-operative and post-operative care under the supervision of a senior surgeon. Learn more about the logistics of the role on our case study page. 
Area of practice  
Pre-, peri- and post- operative environment, including theatre, wards and clinics, usually within a specific surgical specialty.
Overview of tasks and activities
Clinics - seeing specific pre-operative patients and listing them for surgical procedures
Pre-operative assessment processes including clinical examination and enhanced recovery education as directed by the surgical team
Arrangement of pre- and post-operative investigations as part of the MDT
Participation in the consent process in their areas of practice
Liaison with medical, theatre, ward and clerical staff on relevant issues including theatre lists to support coherent service provision
Participation in the WHO safe surgery checklist
Preparation of patients for surgery including venepuncture, male and female catheterisation, patient positioning and preparation
Surgical procedures as part of the MDT for the respective surgical specialty under the supervision and direction of the operating surgeon
Acting as first or second assistant as directed by the supervising surgeon
Facilitation of continuity of care

 

Daily ward rounds, making assessments and formulating plans for post-perative care
Writing of operation notes and ward round note taking
Post-operative care, including wound assessment, initial treatment and identification of surgical problems and complications
Identification of acute deterioration of patients with knowledge of early warning scores
Provision of support to on-call and emergency services
Evaluation of care, including the discharge process and follow-up care arrangements
Facilitation of the training by supporting a training session or providing delegated care to a patient while the supervising surgeon is conducting a training session
Research, development, education and audit within the surgical department
Supervision and management
Clinical responsibility to the consultant surgeon
Day to day work under the direction of the operating surgeon and as a member of the extended surgical team
Line management as part of the surgical team
During the 2-year training, the SCP will be assigned a named clinical supervisor and mentor for the duration of the training programme
Autonomy and independent work
Pre-determined level of autonomy and supervision, agreed on a case by case basis with the responsible surgeon
Once the surgeon is satisfied the SCP works safely and competently within their role, they can arrange for proximal supervision (where the surgeon is not in theatre but their location is within the hospital, and can be easily contactable)
Eligibility for training
Registration as a healthcare professional (e.g. nurse, operating department practitioner, or psychotherapist)
1-2 years of post-registration experience
Evidence of ability to study at master's degree level
Aptitude for clinical and operative practice
Training
Two-year programme at master's level, accredited by the RCS, and comprising both a taught and a practical element
In the second year there is specialisation in a chosen surgical specialty
RCS BSS course completion is required
Professional accountability
Nursing and Midwifery Council, or Health and Care Professions Council, for their original, non-extended roles
SCPs should follow the RCS professional standards of ethical practice for  registered practitioners working in advanced surgical roles