Improving Surgical Training
The Royal College of Surgeons of England (RCS) is working with Health Education England (HEE) to pilot a new competence-based, run through surgical training programme in general surgery. The pilot will trial improvements in the quality of training, a better balance between service and training for trainees, and professionalisation of the role of the surgical trainers. It will also seek to develop members of the team from other professional backgrounds to work alongside surgical trainees to improve patient care.
Our Trainee Prospectus will provide you with further details on how the pilot will work.
The pilot will implement many of the changes recommended in the RCS's Improving Surgical Training report, which was produced in October 2015 with funding from HEE following the independent Shape of Training Review. The IST report found strong evidence-based arguments that general surgical training would be improved by:
providing trainees with a better balance between training and service delivery;
building cross-specialty and cross-professional competencies;
improving the quality of training posts by enhancing the role of trainers to enable them to dedicate more time to deliver training;
adapting different rota designs to allow surgeons to train more during daytime hours;
developing surgical skills earlier through focused training opportunities, simulation etc. so that time is not wasted, particularly in the early years of surgical training;
training and developing a workforce from other professions (the wider surgical team) to support trainees to help deliver better patient care and free up their time for more training.
See the list of provisional pilot sites and use our interactive map to find a site near you.
Our vision for improving emergency surgery is supported by the recent Nuffield Trust report Emergency General Surgery: Challenges and Opportunities, commissioned by the College, that proposed a number of solutions including:
New training models to support new ways of working.
The introduction of managed clinical networks.
The increased use of protocols and pathways.
The development of non-medical roles.
Find out how to apply now.
For a different perspective on the pilot, click on the links below to find blogs from a Foundation Doctor and our own Senior Vice-President, Ian Eardley.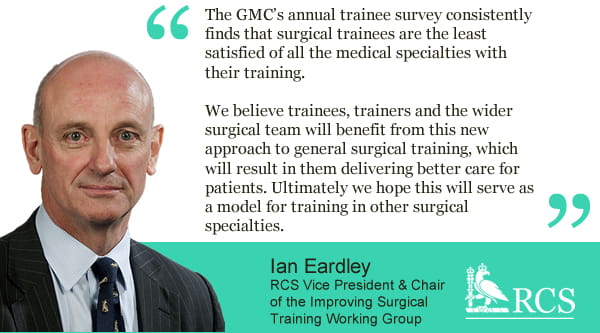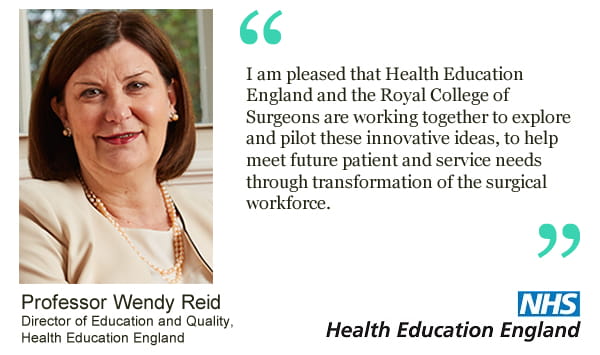 Further details
Recruitment for the pilot will begin in November 2017, with the pilot training programme for general surgery commencing in August 2018.

Read the RCS position statement for an overview of the pilot to improve training in general surgery.
---
We welcome comments at this stage and then applications in due course from interested trainers, trainees and HEE local offices. Please contact Sheena MacSween on 020 7869 6264 or ist@rcseng.ac.uk.