Our profession urgently needs a change of image
08 Mar 2017
Miss Jenny Smith
The Lady Estelle Wolfson Emerging Leaders Programme
Sitting with the brand new Emerging Leaders to observe my first RCS event, a booming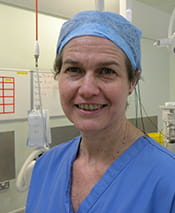 "Hello girls" was not the auspicious start I had hoped for. However, reflecting back on the 2015-16 experience, the dominant tone was that of inclusion and interest. On that first morning, however, I asked myself what I was doing there. Would I find suffocating hierarchy and stifling tradition? Would I become gender type-caste by attending an all-female programme? Would this purely be an exercise in observing, or would there be an opportunity to contribute? I kept an open mind.
During the induction phase of the programme, the structure and strategy of RCS work was explained. We were invited to attend activities including a Council meeting, committee meetings in all tiers of the work flow and meetings of the Examination Board and the SAC. College roles were explained. Council members shared insights into building a profile and standing for Council. We were each linked with a member of Council as mentor for the year. At the time, the atmosphere at the college was permeated by the restlessness of the junior doctor contract dispute. Dropped into the middle of this, one of the most striking moments was a meeting with Clare Marx who shared a candid insight into the challenges of leadership in that moment of political turmoil. Reflecting back, I remember the enthusiasm of my new colleagues to engage, to contribute and to act as a catalyst for change. I think we shared the sense of being pioneers as the programme took shape and gained generous sponsorship. We became the Lady Estelle Wolfson Emerging Leaders (LEWELs).
What did I learn in my year as a LEWEL?
I learned that senior leaders at the RCS are determined to increase the representation of women in all roles. As one Council member put it: "We see diversity as important, but we are just not a very diverse group at present". Reflecting on my experience with the current Women in Surgery initiative, I was impressed with what has been achieved, but so aware that further change is essential. Perhaps the College diversity agenda needs to be broadened along the lines of the parliamentary Women and Equalities Committee.
I learned to be brave in application for new roles, and to go ahead when success is not a "sure thing". Inspiration and direct practical support from College role models was invaluable. Women currently in leadership at the College are certainly not bogged down in hierarchy and tradition as they stick their necks above the parapet every day. During the year I was unsuccessful in standing for Council and I did not get every role I applied for, but came out unscathed and confident. Fellow LEWELs shared similar experiences concordant with the observation that women are less likely to apply for leadership roles unless they feel perfectly qualified. I have learned to face this fear and reluctance in my own personality.
Without a doubt, the high point of the year was inclusion in a network of fellow LEWELs with their talents, ideas and wealth of experience. This was a group of surgeons committed to the care of their patients and to the growth of a quality workforce. My interest in training and recruitment was fanned into flame and I was supported by a LEWEL in a successful application for a role in education.
Next steps
I have just started as a Foundation Training Programme Director. In this new role, I was recently engaged in discussion with a trainee doctor who has a keen interest in a surgical career. He told me he had been discouraged from pursuing this option by colleagues who told him he was "too nice" and that he did not have "the right personality for surgery". My year as a LEWEL has shown me that the archetypal surgeon is a thing of the past. The profession urgently needs a change of image.
I applied for the Emerging Leaders Programme because I want to be involved in change. Specifically, I want to see top class care provided by diverse teams with leadership from a wide mix of social, ethnic, gender, geographic and surgical specialty groups.
Here is your "tap on the shoulder": consider an application to be a LEWEL. You are a surgeon who happens to be a woman. You are already a leader in things smaller and possibly unrecognised. If you want to make a difference and you think your face fits, I encourage you to apply. If you want to see positive change but you think your face doesn't fit, without a doubt, you should apply for the next round of LEWEL. Stay true to yourself and take this step-up from the college.
Miss Jenny Smith DM FRCS, Consultant Oncoplastic Breast Surgeon
The 2017 Lady Estelle Wolfson Emerging Leaders Fellowship is open for applications. Deadline 12 May 2017.
---