COVID-19 update from the President – 4 February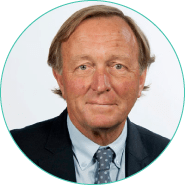 04 Feb 2021
Professor Neil Mortensen
The UK reached a key milestone in the fight against COVID-19 this week. On Monday evening, the NHS announced that all residents of care homes eligible for the vaccine have been offered a first dose. This is excellent news. It provides some relief to many families with beloved grandparents and relatives who have been shielding since the start of the pandemic last year.
Elsewhere, there are healthy signs that the government is on track to reach its target of inoculating the top-four priority groups by mid-February. In just a couple of weeks, every member of a surgical team who is working in a frontline role should have been offered at least a first shot of a vaccine.
One of the hardest decisions I've had to make since becoming president of the College, was what position we took regarding the JCVI's decision to extend the window to 12 weeks for people to get their second vaccine dose. It has kept me awake at night, worrying about the health of colleagues working at the frontline in this epidemic. Therefore it was very good to hear confirmation this week from AstraZeneca that a first dose of their vaccine offers a good degree of protection.
Ultimately, we decided we had to trust the experts in vaccination strategy – the Chief Medical Officers of the UK and the independent expert advisory committee that is the JCVI.
But we have lobbied the JCVI on behalf of patients about to undergo chemotherapy, transplantation and other major surgery. As we shift our gaze ahead to the next milestone of delivering the second dose, we will be keeping a watchful eye to make sure surgeons, as well as our colleagues in anaesthetics, in diagnostics, in intensive care medicine and in nursing, are adequately protected to do their job.
NHS staff up and down the country have been working flat out these last few months, providing care to thousands of people in our hospitals who are seriously ill with COVID-19, or undertaking urgent surgery to save lives. Many surgeons and surgical care team members have been redeployed to direct COVID care. Some are doing nursing rounds, others are proning patients for the first time in thirty years, or providing intravenous line services and assisting anaesthetists in ICU.
Many will have lost patients or colleagues to COVID-19. As the UK death toll from coronavirus surpassed 100,000 last month, the emotional toll on staff really hit home.
The truth is, many NHS staff are burnt out from the experience of working without a break through Christmas and the New Year, on the back of a hellish year, when many were unable to provide the standard of care to patients that they came into this profession to provide. There is no point politicians talking about 24/7 operating to get the NHS back on track, when many anaesthetists, theatre staff and surgeons will need time to recuperate come spring. There are now national plans being discussed for some sort of break for NHS staff. Although the precise shape this will take is not yet decided, it will be very welcome.
We have to look after both the physical and mental wellbeing of our staff. If we don't, there is a danger many will drop out of the NHS altogether, at the very time when we have a huge backlog of surgery and treatment to tackle.
The key to keeping surgical services running over the next few months will be flexible working and team work. As we saw last autumn, many services were running at between 60% and 80% of pre-pandemic levels. We must keep this range of surgical services going, because the alternative is leaving tens of thousands of patients feeling their lives are effectively on hold.
The consequences of long waits are innumerable. Not only does the patient's physical condition deteriorate with time, but it can also lead to depression, unemployment and loss of independence. Investment in staff welfare and staff numbers will be essential to getting back on track, providing timely surgery for all.
My focus at the start of 2021 has been trying to support surgeons to find ways to keep urgent surgery going through these challenging times. As we head towards the spring, the vaccination programme has given many people hope that an end is in sight. But with the daily twists and turns of new variants, the only thing I believe is certain is that we must look after our colleagues' welfare, and build back a health service that is more resilient and sustainable, to weather an unpredictable future.