Fast operators: talented Yorkshire team win prestigious 'Are you cut out for it?' surgical competition
01 May 2018
Trainee surgeons Joanna Aldoori and Daniel Ashmore from Yorkshire and the Humber are celebrating after winning a highly prestigious UK-wide surgical skills competition. The talented duo walked away with the title of 'Best Core Surgical Trainees in the UK' - along with a prize of £1,500 to share, after taking part in the Royal College of Surgeons' competition.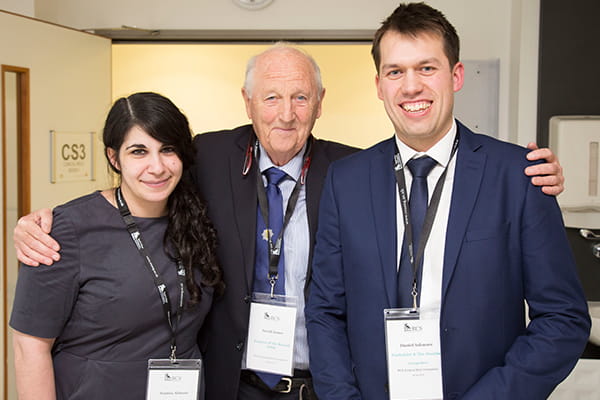 Winners Joanna Aldoori (left) and Daniel Ashmore (right) with David Jones from The Honourable Society of the Knights of the Round Table
Performing surgery is highly pressured under any circumstances, but when you're competing against some of the best trainee surgeons in the UK and up against the clock, you need steady nerves - and steady hands.

As befits a competition helping to train surgeons for the NHS, the final was about teamwork as well as individual excellence. Joanna and Daniel competed against James Olivier and Tom Badenoch in the 'Grand Final' on Saturday 28th April, 2018, at London's University College Hospital (UCH). While Joanna and Daniel won £1,500 for being part of a great partnership, James and Tom, the two runners-up, shared £500.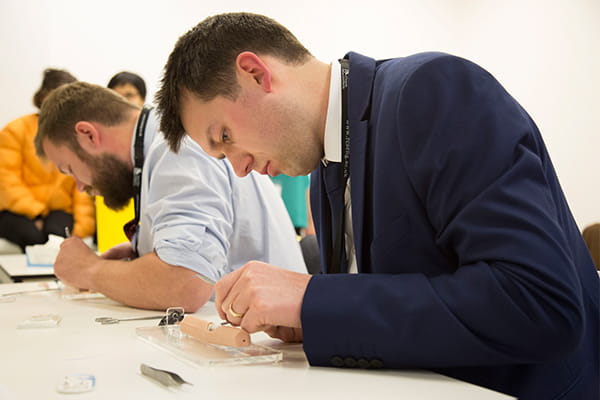 Tom Badenoch (left) and Daniel Ashmore (right)
Nine heats were held across England and in Northern Ireland, in which participants competed in pairs across a range of fields, including skin and laparoscopic tasks. The variety of time-pressured procedures allowed the examiners to assess the quality of surgical skills and knowledge of both team members, with marks allocated for the assistant as well as the primary operator.

The London-based final saw the winners from each region compete against each other for the title. It provided a similar set-up with the addition of a 'tie-break' activity, designed to differentiate between the two top-scoring best pairs on the day whilst injecting a little more intensity at the final hurdle.  Competitors used realistic models to showcase their skills on.

As overall winners of this, the fifth national final since the competition started, Joanna and Daniel also won the Louis Solomon Knights Award for Surgical Skills, as well as RCS Affiliate Membership for a year – and a fantastic addition to their CVs.

Mr Daniel Ashmore, who works at Hull and East Yorkshire NHS Trust, said: "It was a great experience, and a relief, as the Yorkshire team won last year. Our training programme director, who organised it, told us to relax and have fun… but not to let Yorkshire down!

"It was excellent to meet new people and hear about training in other areas and specialties, especially with the comparison of laparoscopic and skin tasks. I would advise anyone thinking about participating to get involved. It's free, good fun, you get to use your skills and it's a friendly competition."

Miss Joanna Aldoori, who works at Hull and East Yorkshire NHS Trust, added: "We were runners up to the guys who won last year, so we thought let's try again and we won!"
---
Notes to editors
1. "Are you cut out for it?" was originally set up by Kathryn Ford and Lilli Cooper - two core surgical trainees, in November 2012, in collaboration with the Royal College of Surgeons. They are now specialty trainees in paediatric and plastic surgery respectively. The competition is free to enter and is open to core trainees commencing their CT2 year in the 12 regions across the UK. Surgeons of all career grades can volunteer to organise the regional heats between October and December.

2. The Honourable Society of the Knights of the Round Table generously provided the prize money for the winners, while Limbs & Things provided simulation materials for the regional heats and final.

3. Limbs & Things kindly provided the models and equipment for the surgical trainees to perform procedures on.

4. The Royal College of Surgeons of England is a professional membership organisation and registered charity, which exists to advance surgical standards and improve patient care. It provides a range of career support to budding surgeons – and one of its strategic priorities is to 'attract, educate, develop and support high-quality surgeons'. More information on its careers support can be found at www.rcseng.ac.uk/careers

5. For more information, please contact the RCS Press Office on: 020 7869 6052/6047; or email: pressoffice@rcseng.ac.uk