Comment on dental statistics
23 Sep 2016
New statistics show rising number of children not visiting an NHS dentist, with huge regional variations
42.1% of children did not visit an NHS dentist during the last year (between 1st July 2015 to 30th June 2016), new figures for England released by NHS Digital today show. This is a rise from 2014/2015 data which showed that 40% of children did not visit the dentist. For adults, 48.3% did not visit the dentist over a two year period (between 1st July 2014 to 30th June 2016). NICE recommends children visit the dentist every year but most adults need to visit an NHS dentist less frequently.
For the first time ever, the statistics reveal regional variations across the country. Only 31.1% of children in Hackney visited an NHS dentist last year compared with 81.6% of children in South Tyneside.
Commenting on these statistics, Professor Nigel Hunt, Dean of the Faculty of Dental Surgery at the Royal College of Surgeons, said:
"There is nothing to smile about in these woeful statistics. With the average five year old now eating their own weight in sugar each year, it is alarming that 42.1% of children failed to visit an NHS dentist at all in the last year.
"It is appalling that in the 21st century, tooth decay remains the most common reason why children aged 5-9 years old are admitted to hospital. In some cases, these children undergo multiple tooth extractions under general anaesthetic – despite the fact that tooth decay is almost entirely preventable.
"We are failing to address this issue of improving children's access to an NHS dentist and we urge ministers to act. The soft drinks levy, which was announced in last month's Childhood Obesity plan and will be introduced in 2018, also provides an opportunity to invest in tackling child tooth decay. Some of the revenue raised through this should be spent on oral health improvement programmes."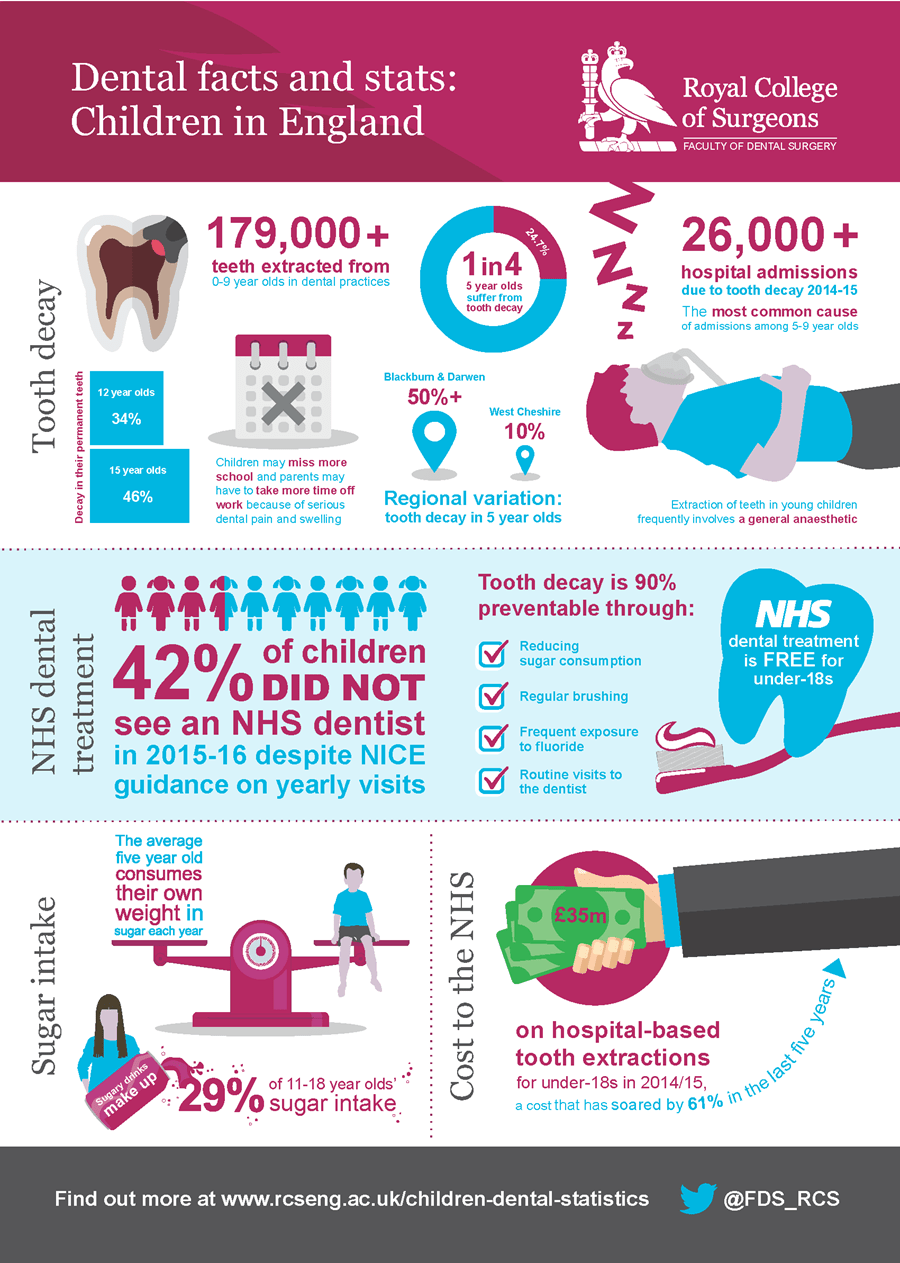 Top 5 worst performing local authority areas for % of children visiting an NHS dentist between 1st July 2015 – 30th June 2016
| | |
| --- | --- |
| Hackney | 31.1% |
| Kensington and Chelsea | 35.9% |
| Tower Hamlets | 37.6% |
| Waltham Forest | 42.0% |
| Merton | 42.8% |
Top 5 best performing local authority areas for % children visiting an NHS dentist between 1st July 2015 – 30th June 2016
| | |
| --- | --- |
| South Tyneside | 81.6% |
| City of London | 79.6% |
| Bath and North East Somerset | 78.7% |
| Cheshire West and Chester | 73.3% |
| York | 71.8% |
Notes to editors
---
The Faculty of Dental Surgery at the Royal College of Surgeons of England is committed to enabling dentists and specialists to provide patients with the highest possible standards of practice and care.

NHS Digital's statistics are available at: http://www.digital.nhs.uk/catalogue/PUB21701

To contact the FDS press office, call: 020 7869 6047/6052; Out-of hours: 07966 486 832; or email: pressoffice@rcseng.ac.uk