Professor Derek Alderson elected as President of the Royal College of Surgeons
09 Feb 2017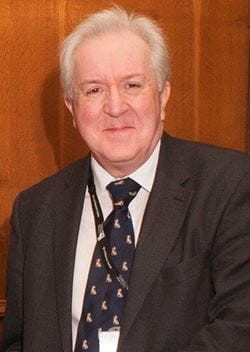 Professor Derek Alderson has been elected by the Royal College of Surgeons' Council to be its next President. He will start the role in July when the current President's term ends.

Derek Alderson is Emeritus Professor of Surgery at the University of Birmingham. He is currently editor-in-chief of BJS Open. His main area of clinical interest continues to be oesophagogastric surgery. He has particularly led the College's work on research, data, and surgical outcomes.

President-elect Professor Alderson said:

"I am honoured to have been elected as President of the Royal College of Surgeons by our Council. I recognise the significant responsibility that comes with this role and I am keen to ensure we remain a national and international leader in surgery. The RCS must be at the forefront of all policies and strategies that create better surgery to improve outcomes for patients. I look forward to working more closely with our membership to achieve our ambitions."
President Miss Clare Marx said:
"I congratulate Professor Alderson on his election as President. Surgery currently faces a number of challenges in the NHS amid rising waiting times and bed capacity, and there is a risk that the current important focus on day-to-day performance distracts from initiatives to improve the quality of surgery. Professor Alderson continues the Royal College of Surgeons' history as a progressive force in healthcare, and I have every confidence that with his distinguished background in research and quality improvement, he will help to advance surgical care for the good of our patients."
---
Notes to editors
The Royal College of Surgeons of England is a professional membership organisation and registered charity, which exists to advance surgical standards and improve patient care.
For more information, please contact the Press Office: