Skilled surgeons-to-be from Wales take top prize at national competition
25 Apr 2023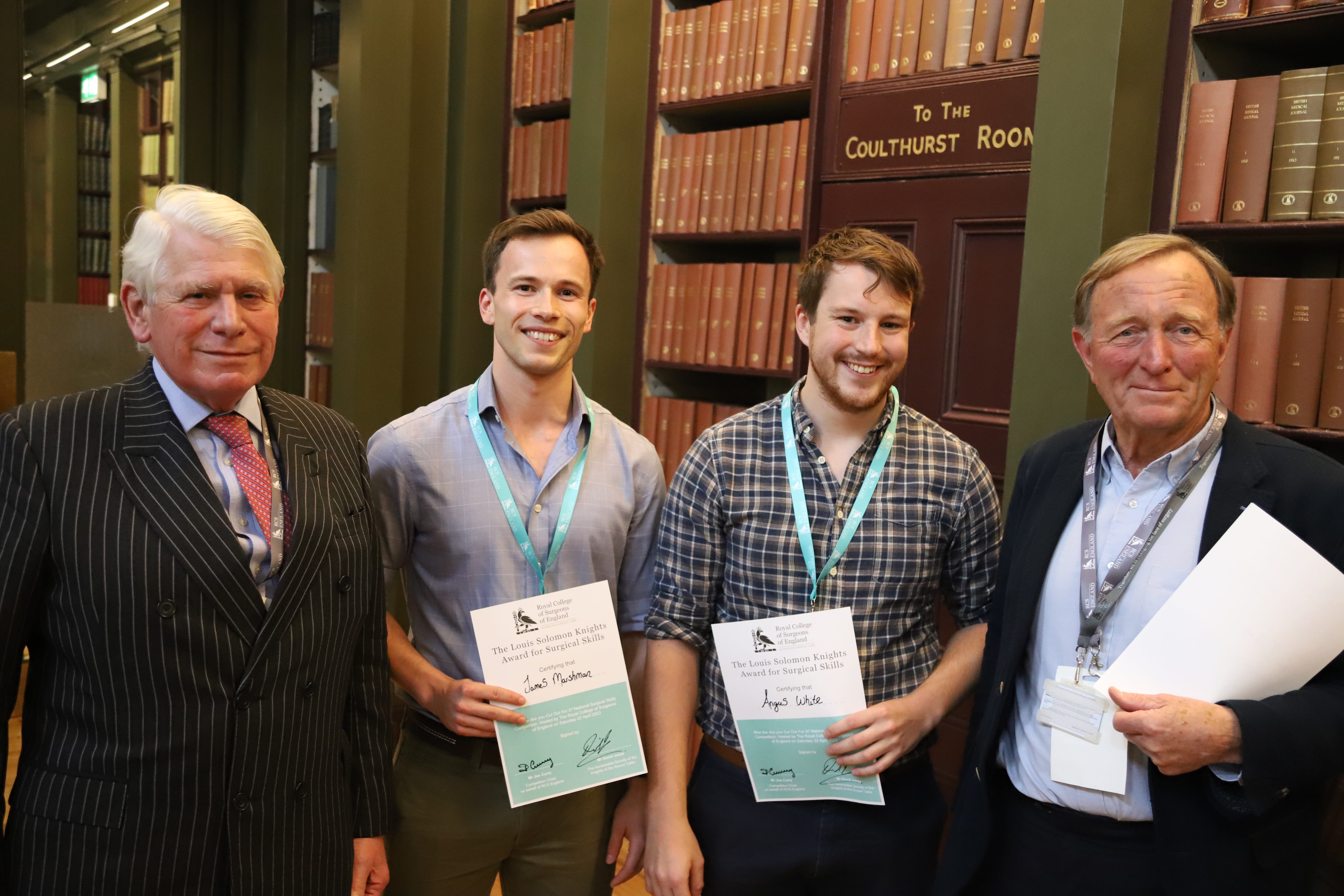 Two Welsh surgeons have been named winners of a surgical skills competition that attracted teams representing all 15 schools of surgery across the UK for the first time.
The second-year core surgical trainees, James Marshman from Morriston Hospital in Swansea and Angus White of the Royal Gwent Hospital in Newport, won £1,500 and the prestigious Louis Solomon Knights Award for Surgical Skills at the national final of the Royal College of Surgeons of England competition.
The pair fended off competition from 14 other teams who competed across the regional heats and became the first team from Wales to win.
"Cymru am byth! (Wales forever!) The competition has been great fun and a wonderful opportunity to meet and collaborate with other trainees. We are delighted to have won," Marshman said.
Held at the Royal College of Surgeons of England's (RCS England) prestigious headquarters in London on Saturday, 22 April, the final required teams to undertake a range of practical skin and wound management and laparoscopic tasks, in addition to non-technical skills such as prioritisation and anatomy tasks.
For core trainees (CT2s), who are members or affiliate members of RCS England, the ''Are You Cut Out For It?' competition encompasses fun and competition as tools for learning.
The tasks assigned to the finalists assessed their surgical skills as well as their knowledge and application of surgical principles, before the two pairs with the highest scores went head-to-head in the grand final.
The competition is sponsored by Limbs & Things and The Honourable Society of the Knights of the Round Table. RCS England members Kathryn Ford and Lilli Cooper established it established Are You Cut Out For It? 11 years ago, with the first competition featuring representation from just three regions.
Mr Tim Mitchell, Vice President of the Royal College of Surgeons of England, who was among the judges, said: "It has been fantastic to witness full UK representation among the competitors this year and the standard has been incredibly high. We are committed to helping to develop world-leading surgeons and congratulate James and Angus on their success."
ENDS

Notes to editors:
Photo from left to right: Lt General Andrew Collingwood Figgures, winners James Marshman and Angus White, and Professor Neil Mortensen, President of the RCS England.
The Royal College of Surgeons of England provides world-class education, assessment and development to 30,000 surgeons, dental professionals and members of the wider surgical and dental care teams, at all stages of their career. Our vision is to see excellent surgical care for everyone. We do this by setting professional standards, facilitating research and championing the best outcomes for patients.
For interview requests or further information, please contact the Royal College of Surgeons of England Press Office. Telephone: 0207 869 6053; Email: pressoffice@rcseng.ac.uk; Out-of-hours media enquiries: 0207 869 6056.