Surgeons gear up to cycle the length of the UK to fundraise for pioneering research
10 Jul 2021
Two leading surgeons will cycle from Land's End to John o'Groats, to raise vital funds for pioneering surgical research and Myeloma UK.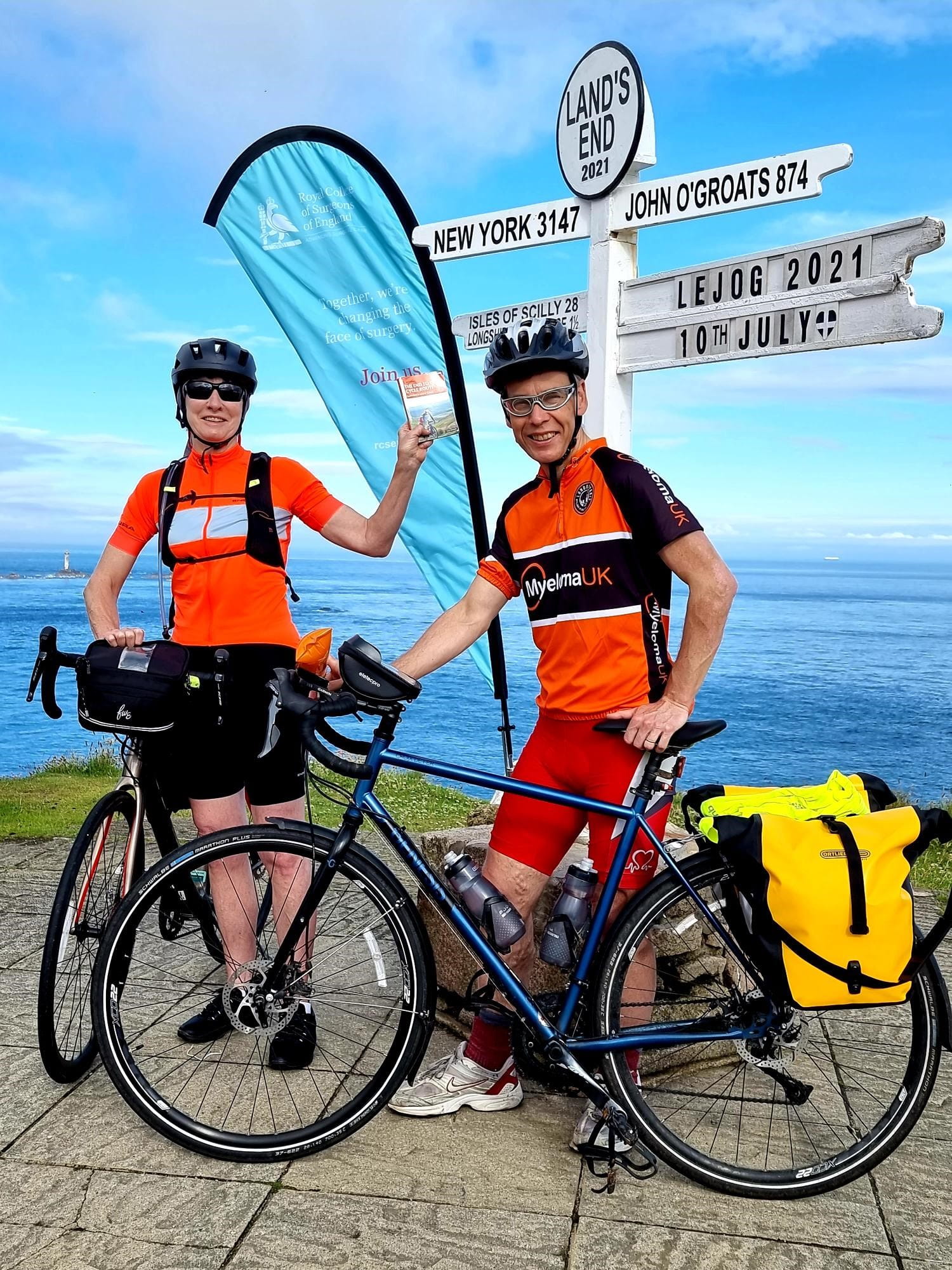 Miss Susan Hill and Mr Tim Mitchell, both Council Members at the Royal College of Surgeons of England (RCS), will set off from Land's End on Saturday 10th July 2021, to cycle 1,000 miles to John O'Groats, arriving on Sunday 25th July, 2021. They hope to reach their fundraising target of £10,000.

Miss Hill and Mr Mitchell were inspired to undertake the challenge after seeing the impact myeloma has had on their fellow council member and surgical colleague, Mrs Scarlett McNally. Mrs McNally was diagnosed with Myeloma in December 2018. Also known as multiple myeloma, it is a type of blood cancer and currently has no cure.

Miss Hill is a former Vice President of the RCS Eng and a consultant vascular surgeon. She works at University Hospital Wales in Cardiff, south Wales. Speaking ahead of the ride, she said: "The majority of my patients have arterial disease and either smoke, or have Type 2 diabetes. Cycling and other types of regular aerobic exercise are particularly beneficial for this patient group so it is apt for me to be taking part. But it is not going to be easy. Although I have completed 70-mile cycle rides - the challenge will come from doing that every day for two weeks, without a rest day. I want to support my colleague and friend Scarlett by raising money for Myeloma UK. I also want to fundraise for the RCS's research projects to give young surgeons an opportunity to be involved in academic research early in their careers."

Mr Mitchell is a Vice President of the College and a consultant ear, nose and throat (ENT) surgeon. He specializes in cochlear implant surgery – enabling deaf children and adults to hear.

Mr Mitchell said: "We wish to support Myeloma UK because we have seen the impact of this condition on our much valued and respected colleague and friend, Scarlett. She is a keen cyclist and a great advocate of the benefits of regular exercise2. So it is appropriate that we show our support by taking on this particular challenge. Part of the money raised will go towards helping Myeloma UK to support people with the condition and to fund research to identify better treatments.

"We are both aged over 50 and occasional cyclists. We set ourselves this challenge to also raise funds for the RCS. It advances surgical care by training and supporting surgeons throughout their careers - and funding pioneering surgical research. Many of us have had, or know people who have had, life-saving or life enhancing surgery. The RCS is committed to improving surgical care and standards to transform patients' lives.

"It's been a long time since I tackled 1,000 miles – not since I was a student, so this will be a real challenge. I have been training though, doing nine miles to and from work [Winchester to Southampton] and a 30-mile regular return route to Alresford. I am also hoping that the London-Brighton ride I completed in 2019 with my son will put me in good stead – fingers crossed."

Mrs Scarlett McNally, a consultant orthopaedic surgeon, said: "I am honoured and touched that Tim and Sue are doing this tough cycling challenge for the two charities that have kept me going in recent years. It would be great if everyone could give them lots of support."

Myeloma UK Community and Events Fundraising Manager, Helen Quigley, said: "We're so grateful to Sue and Tim for their amazing fundraising ride. The money they raise will help us continue our research and support work for Myeloma UK, giving every patient an empowered present and a hopeful future"

You can find further information and donate at: https://uk.virginmoneygiving.com/HillMitchellRCSMyeloma

ENDS
---
Notes to editors
1. The Royal College of Surgeons of England (RCS England) is a professional membership organisation and registered charity, which exists to advance patient care. We support our national and global membership, providing education, assessment, and development to nearly 30,000 surgeons, dental surgeons, and members of the wider surgical and dental teams at all stages of their career; we set professional standards, facilitate research, and champion world-class surgical outcomes for patients. We want to see excellent surgical care for everyone and will achieve our vision by enabling all our members, in all their diversity, to deliver excellence in everything they do.
2. Mrs Scarlett McNally has contributed to the following pieces of work on the benefits of exercise: https://www.aomrc.org.uk/reports-guidance/exercise-the-miracle-cure-0215/; https://publishing.rcseng.ac.uk/doi/full/10.1308/rcsbull.2020.28
3. For more information and to request photographs, please contact the RCS Press Office: telephone: 0207 869 6056 or e-mail: pressoffice@rcseng.ac.uk.
4. About myeloma:
• Myeloma is the third most common form of blood cancer. It originates in the bone marrow and currently affects around 17,500 people in the UK
• Myeloma has the longest diagnostic pathway of all cancers
• On average 15 people a day are diagnosed within the UK
• Whilst treatable, myeloma is not yet curable
• Treatment aims to control the myeloma, relieve symptoms and improve quality of life. It generally leads to periods of remission but patients inevitably relapse requiring further treatment
• This is why it is vital that we invest in research, and support access to the best treatment and care for myeloma patients
5. The symptoms of myeloma:
• Pain: the main cause of pain for myeloma patients is myeloma bone disease. Effective control and management of pain is an important aspect of myeloma treatment
• Bone disease: your middle or lower back, rib cage and hips are the areas most likely to be affected. Myeloma bone disease can cause bones to fracture
• Fatigue: persistent fatigue, or an overwhelming tiredness, is common in myeloma. It may be due to the myeloma itself, or to a complication such as anaemia – a condition in which the amount of haemoglobin in the blood or the number of red blood cells is below the normal level, causing shortness of breath, weakness and tiredness. Fatigue may also occur as a side effect of treatment
• Recurring infection: infections are common in myeloma patients because the myeloma and its treatments interfere with the immune system
• Kidney damage: the abnormal protein (paraprotein or light chains) produced in myeloma can damage the kidneys, as can some of its other complications, such as hypercalcaemia (a condition in which the level of calcium in the blood is too high)
• Peripheral neuropathy: damage to the nerves that make up the peripheral nervous system – that's the nerves outside the brain and spinal cord
6. About Myeloma UK:
Myeloma UK is the only organisation in the United Kingdom dealing exclusively with myeloma.
We are dedicated to ensuring that patients get access to the right treatment at the right time, and to improving standards of treatment and care through research, education and awareness raising, particularly to improve earlier diagnosis
We provide a range of information and support services to patients, family and friends to help deal with a diagnosis of myeloma and these are of crucial help to patients and their families
Myeloma UK receives no Government funding and relies almost entirely on voluntary donations and fundraising.
To find out more visit: www.myeloma.org.uk, or follow us on Twitter: /MyelomaUK and Facebook: /MyelomaUK.
Contact the Myeloma UK Communications Team at comms@myeloma.org.uk or on +44 (0)131 557 3332.