Welcome to your professional home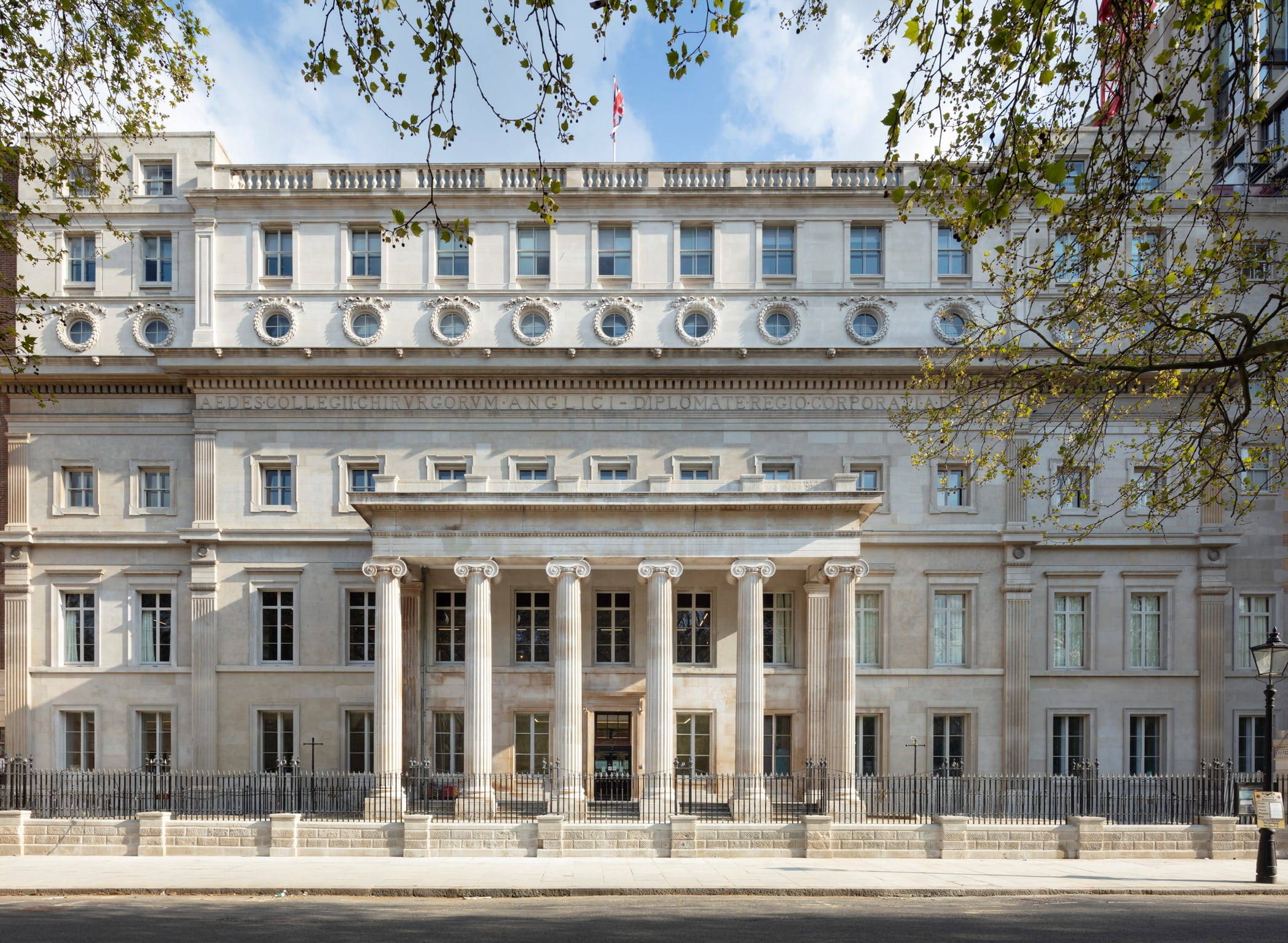 Transformed from a sprawling warren of corridors built in the aftermath of the Second World War, The Royal College of Surgeons of England now provides state of the art education, examinations and event facilities for the next generation of surgeons. The modern refurbishment builds on our prestigious heritage, seamlessly blending historical architecture with high-tech and environmentally sustainable design. The transformation reflects our changing functions as the home for surgical excellence in the UK and across the world.
We are now home to a Professional Surgical Centre, including facilities for courses and exams; the Hunterian Museum; the Lumley Library; contemporary meeting rooms; member spaces; facilities for the Surgical Speciality Associations; office zones; and a new public entrance and café. The pièce de résistance is a new sixth floor event space, The View, which boasts beautiful views over the city from its terrace, and provides a modern, light and flexible space for conferences, weddings and parties.
It is a wonderful blend of old and new, with an atmosphere that combines a legacy of excellence with future innovation. We have no doubt that our new home of surgery will shape the future of our profession and help us, together, to change the face of surgery.
Transforming our College
We are looking to change the face of surgery in many ways, and we look forward to you joining us. We have started our journey by creating a space, both in the building and online, where the best surgical minds can come together to learn and share ideas on how to advance surgical care. We know that if surgery is to survive, and thrive, we also need to focus our attention on issues that will future-proof the surgical profession. This includes increasing diversity, improving wellbeing and championing sustainability.
Our transformation also involves providing more opportunities and support for our members across the UK and internationally. This includes developing our digital offer and expanding our regional and global networks to ensure that our members, wherever they are, can access the best training, development and support. Our Global Team support surgeons and their teams in 90 countries from Australia to Ethiopia, whilst our Outreach Team work to connect members from all four nations of the United Kingdom.
The transformation of our College
The redevelopment of our headquarters in Lincoln's Inn Fields was completed in July 2021. Our new home of surgery now provides state of the art education facilities, using evidence-based, technology-enhanced learning for the entire surgical and dental team. The building also includes world-class examination and event spaces, research facilities and improved member areas – creating a flexible and efficient working environment for the future.
The View
London's newest destination venue –The View – is the crown of our College. It is a friendly and inclusive space for the College's 30,000 members to connect and network, bringing together all specialities and career grades across surgery and dentistry. The View is also open to the general public for conferences, meetings and events. It boasts spectacular views of London, with a large terrace for guests to enjoy on summer evenings. It is the perfect place to host a conference or a beautiful wedding. A venue steeped in history, with modern facilities and a long legacy of scientific discovery in the heart of London.