Having an Operation?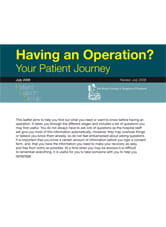 Author: Patient Liaison Group
Year: 2006
Publisher: Patient Liaison Group
---
The thought of having an operation can be frightening for anyone. This leaflet will give you some useful tips which may help you and the medical team. By understanding 'why' and 'what' is happening to you, you can play your part. As a patient you have the right to quality care and to share in the decisions on how best to solve your health problems.
You may also be interested in the College's
Get Well Soon
resources.