Cancer patients: the forgotten victims of the COVID-19 global pandemic
14 May 2020
Mr Rabindra Singh
Rabindra Singh is a Consultant Maxillofacial/ Head & Neck Reconstructive Surgeon, based at University Hospital Southampton. He is also an Associate Editor at the British Journal of Oral and Maxillofacial Surgery. In this week's COVID-19 blog, he writes about his concerns for cancer patients whose treatment has been postponed or amended because of the COVID-19 pandemic.
We are in the middle of a COVID-19 global pandemic, which is testing every country's healthcare system to the limit, with uncertainty as to its course in the coming weeks and months. Due to the re-direction of hospital resources to the management of COVID-19 infected patients, elective treatments, including cancer surgery, have been cancelled or postponed. This was due to a reduction in intensive care unit (ICU) and staffing capacity.
Locally, at the beginning of the emergence of the pandemic in the UK, we re-directed several of our cancer patients to radiotherapy treatment, who would have otherwise undergone the preferred option of surgery during normal times. Since then, we have reverted to undertaking cancer surgery including those requiring complex microvascular free flap reconstruction. However, this presents with a significant challenge of performing surgery with full personal protective equipment (PPE) for a prolonged period of time in a significantly altered operating theatre environment. We are adjusting our surgical practice as we attempt to adapt to the evolving situation by simplifying surgery and reconstructive options if at all possible.
A recent study from Imperial College London estimated that in the absence of interventions, COVID-19 would result in 7 billion infected cases and 40 million deaths worldwide. Mitigation strategies could reduce this burden by half. However, they predicted that the health systems in all countries will be overwhelmed. (1) Even if a fraction of their estimates becomes true, it appears that elective surgery will continue to be severely hampered for a considerable period of time. This may be an acceptable practice in the current climate in the very short term, but this is clearly unsustainable as the problem we have in hand is unlikely to disappear for many months to come. This situation is placing cancer patients at an enormous disadvantage with the possibility of delayed or inadequate treatment, which is likely to result in poor short, and long term, outcomes.
The UK, as it currently passes through the first peak of the COVID-19 infection, may well have further peaks in the coming months, putting renewed pressure on NHS capacity to undertake elective procedures. It is of some reassurance that NHS England has recently instructed hospital trusts to continue essential cancer surgery despite the focus on coronavirus. (2) However, undertaking a major cancer surgery, which requires postoperative ICU admission, and involvement of a large number of theatre and ward staff, may once again become extremely difficult. Our cancer patients are likely to be the worst affected group of patients and are fast becoming the forgotten victims of this pandemic. Many of them who would otherwise have a relatively simple surgery, with excellent long term prognosis, are set to experience an incredible injustice imposed upon them by this crisis.
The debate, which may become inevitable in due course, is whether healthcare services should soon consider ring fencing some of their resources such as ICU beds and staffing for the treatment of cancer patients. How long will COVID-19 infected patients continue to have priority over all other patients who also have the equal right to their treatment? It may be time we start raising this difficult ethical question in protecting the rights of all cancer patients around the world.
Rabindra Singh and a colleague inside an operating room.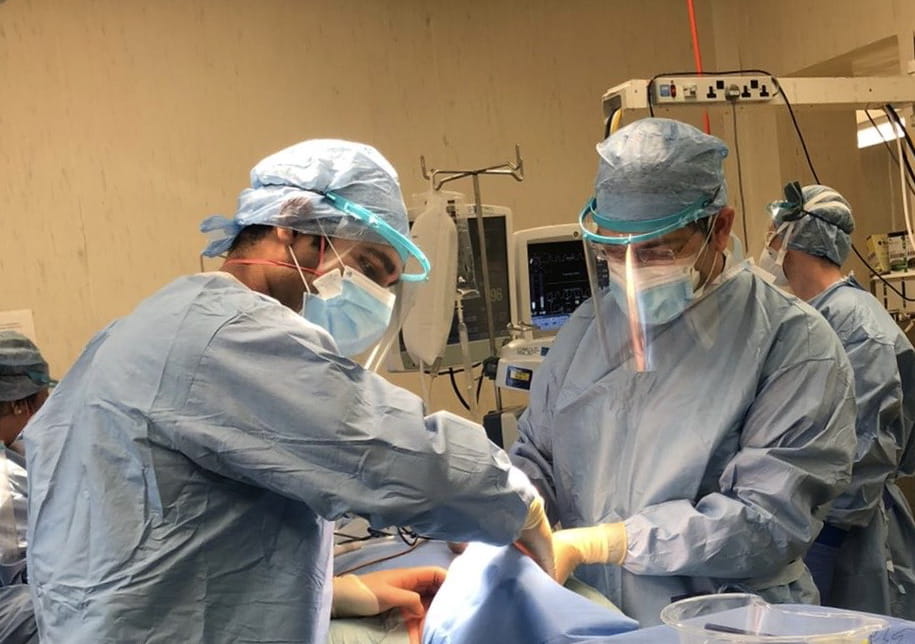 References
Imperial College London. The Global Impact of COVID-19 and Strategies for Mitigation and Suppression

(cited April 2020).

NHS England and the Academy of Medical Royal Colleges. Specialty guidance on the management of essential cancer surgery for adults during the pandemic (cited April 2020).
---
This blog is from our series COVID-19: views from the NHS frontline. If you would like to write a blog for us, please contact content@rcseng.ac.uk.