Appraisal
Annual appraisal is at the centre of revalidation. In England, appraisal systems vary based on Trusts' local arrangements, but they are all underpinned by the NHS Revalidation Support Team's Medical Appraisal Guide. The NHS Revalidation Support Team has also produced a Model Appraisal Form as a practical demonstration of the information required for medical appraisal.
In 2022, the Academy of Medical Royal Colleges produced the Medical Appraisal Guide (MAG) 2022.
Your appraisal should:
be based on the GMC

Good Medical Practice Framework for appraisal and revalidation

;
cover your whole professional practice. If you work in more than one organisation, eg NHS, independent practice or a university, a single appraisal should be carried out covering all aspects of practice.
take into account the six types of supporting information set out in the

specialty guidance for surgery

;
include both a summative element, assessing your performance since your last appraisal, and a formative element, discussing your professional development and setting out your personal development plan for the year ahead.
Your appraisal meeting is a confidential discussion with a trained appraiser who should support, guide and constructively challenge you, having reviewed the supporting information and commentary you have provided. After your appraisal meeting, you and your appraiser will need to agree a new personal development plan and a written summary of the appraisal discussion. Your appraiser will also make a series of statements to the responsible officer that will, in time, inform your revalidation recommendation. They should discuss this with you.
The NHS Revalidation Support Team has summarised the appraisal process in the following diagram: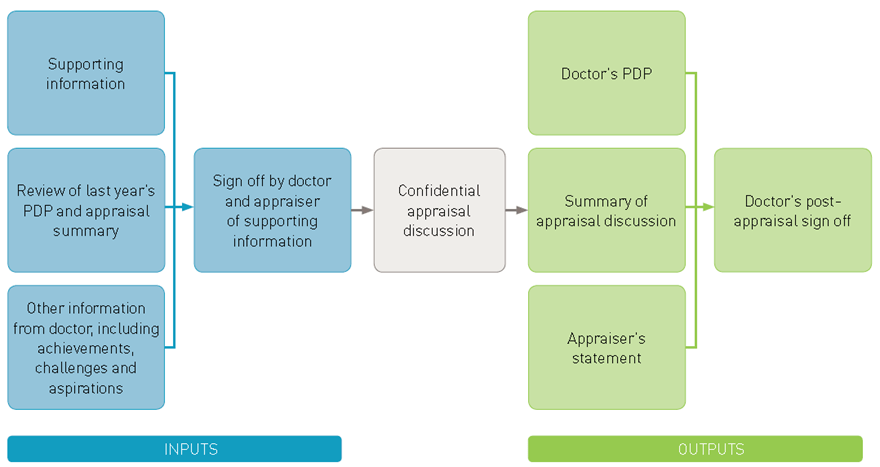 Example appraisal portfolios
The College, working with the NHS Revalidation Support Team, has produced example appraisal portfolios which demonstrate what a good appraisal portfolio could look like for surgery. The portfolios illustrate different approaches to preparing an appraisal portfolio and can be used as a general guide that can be adjusted according to a surgeon's practice and scope of work:
If you receive an error message when you click on the links above, please click the download button on the error message page.
There are more example portfolios for non-surgical specialties available on the NHS Revalidation Support Team website.