Your Quality Improvement Stories
Project title: Professionalism Compliance Analysis Tool (PCAT)
Description
PCAT is a Quality Improvement Tool designed by the Scottish Government in conjunction with key stakeholders. It is comprised of a bespoke survey, stakeholder engagement, feedback reports and meetings which then subsequently lead on to further QI processes. The aim of the tool is to address any gaps between contractually compliant rotas and those that deliver educational aims, good quality care, and facilitate overall health and well being for doctors-in-training.
Why was the project undertaken?
The project arose following a literature review and semi-structured interviews designed to address the issues faced by the doctors-in-training workforce.
Who was involved in the QI project?
Scottish Government Workforce Directorate - Senior Medical Advisor John Colvin and Scottish Clinical Leadership Fellows: Karen Lindsay, Rob O'Donnell, Emily Broads, Andrew Pearson, Reem Al Soufi
What did you do for the QI project?
A literature review and semi-structured interviews form the basis of the tool This was then piloted in Emergency Medicine and Anaesthetics in Scotland Feedback sessions were recorded and the mapped to the 3 pillars of PCAT Key themes emerging from the processes were mapped to the 3 pillars of the tool.
The tool was mapped to the GMC's "Good Medical Practice" and the BMAs advisories on good rota planning.
The pilot phase has been completed in Anaesthetics, some surgical centres have been involved and we are now rolling out the use of PCAT across health boards in Scotland. PCAT is now gaining interest across the UK from NHS Employers and NIMDTA, with utilisation of the tool expected to increase nationwide.
What were the outcomes of the QI project?
Improved engagement with doctors-in-training, the service and the educational infrastructure. Changed working patterns, new joy in work initiatives, additional staff on rotas, changes in staff allocation, improved GMC survey results.
What benefits were seen as a result of the QI project?
Better staffing levels for safe care, improved utilisation of staff, improved satisfaction scores for doctors-in-training.
How was/will the QI project be evaluated?
A qualitative review of the reports has been undertaken and will be published in due course. The quantitative assessment of the GMC survey results is underway.
What was learnt from the QI project?
The importance of structured open and honest conversations with the service, educational infrastructure and doctor-in-training body leads to empowered staff who are more able to undertake change in their working environment.
Understanding the challenges of the working environment, beyond the number of hours worked, and valuing the experience of our staff has a huge impact on their ability to deliver safe and effective care in a supportive environment. We recommend this process as a way of understanding excellence in rota planning and communication within departments.
Read about the Wales team's experience of being part of the Chole-QuIC project

Project title:
Chole-QuIC, Welsh representation
Project description:
In Princess of Wales Hospital, Bridgend, part of Abertawe Bro-Morgannwg University Health Board, we were lucky enough to have the opportunity to participate in the national Chole-QuIC project, initiated by the Royal College of Surgeons (RCS). As for all participating hospitals, we aimed to reduce time to urgent cholecystectomy for eligible patients with acute biliary pain or cholecystitis or gallstone pancreatitis, using quality improvement (QI).
We were the only Welsh representative amongst the thirteen hospitals selected and feel we were major contributors to the success of the endeavour, which ran from Oct 2016 – Jan 2018.
The goal of Chole-QuIC is for 80% of eligible, admitted patients to receive their cholecystectomy within 8 days of presentation at hospital, in line with NICE guidance.
 Why was the project undertaken?
Although our hospital did perform good numbers of "hot" lap choles, the emergency cholecystectomy service was poorly organised and we recognised that our ad hoc approach offered a poor experience for many with significant risks to patient safety
We also struggled with large numbers of delayed elective lap choles with unacceptable waiting times and acknowledged poor quality of life for many patients.  Many of the elective cases had been generated after previous emergency admissions
We achieved agreement with management staff to target improvements in emergency provision first, anticipating that elective waiting times would rise a little at first, but in time reduce sustainably
Who was involved in the QI project?
Our team consisted of:
Barry Appleton (project lead, colorectal surgeon and QI lead)
Simon Weaver (surgical lead, upper GI and biliary surgeon)
Viju Varadarajan (anaesthetic lead, consultant anaesthetist)
Nirav Patel (anaesthetic trainee)
Laura Sullivan (nurse lead, surgical ward sister)
Rachel Edwards (theatre lead, ODP team leader )
Lee Talbot (IT lead, Quality Improvement Information Analyst)
Steffan Gwynne (Service manager, surgical directorate)
Yousuf Sabah and Josh Kovoor (data doctors(!), Clinical Fellow and FY1)
What did you do for the QI project?
An early decision was that we needed to tackle human factors issues and change the culture from "it's only a lap chole" to "it's a hot gall bladder, let's get on with it!". The big win we had was asking a patient (well served by the Chole-QuIC process) to come to speak to surgical, anaesthetic, ward and theatre staff with a patient story elegantly describing the impact of multiple admissions with ongoing pain and the impact on her life.  Finding a team with varied perspectives and roles was also crucial for us.
Data collection was a huge challenge that we tried to simplify with the use of a white board on to which all patients with possible biliary symptoms were added.  We used this as a way to capture all patients and transfer to Chole-QuIC log if appropriate biliary disease confirmed.  We then cross checked with electronic discharge summaries frequently to ensure that patients had not been missed
What were the outcomes of the QI project?
The percentage of patients having their emergency cholecystectomy within 8 days more than doubled. Project goal (80% of patients having their emergency cholecystectomy within 8 days) sustained over a period of several months
What benefits were seen as a result of the QI project?
We have been delighted that we feel we have changed the culture in sustainable fashion in our hospital.  Emergency gall bladder surgery has become the norm rather than the exception, whoever the admitting consultant is.  We have used the project to drive alterations to our theatre template for more provision for emergency surgery in general with two lists per week targeted for hot gall bladders.  Anaesthetic trainees have been using biliary patients as targets for their pre-assessment modules in their training portfolios.  A medical student led satisfaction survey has identified high levels of patient satisfaction.  We are now concentrating our efforts on bringing those patients with established duct stones into our ongoing efforts.
How was/will the QI project be evaluated?
The project will be evaluated as part of the formal Chole-QuIC evaluation, carried out by the RCS and covering all participating sites
Did hospital involvement in the Chole-QuIC QI collaborative improve care processes and reduce time to surgery (in line with NICE guidance) for patients requiring emergency cholecystectomy?
What was the exposure of local Chole-QuIC QI teams and their clinical colleagues to the QI project activities and interventions?
What were the enablers and barriers to the local Chole-QuIC QI teams' ability to routinize care processes in line with the relevant NICE guidance?
Based upon participants' (NHS staff involved in the project) experience, how might the development, refinement and understanding of the surgical QI collaborative be optimised?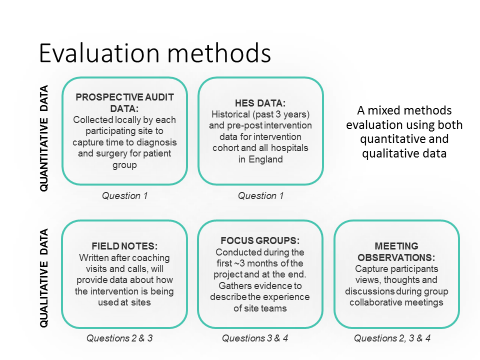 What was learnt from the QI project?
Even comparatively low burden data gathering is labour intensive
Big team with varied views important, changes of staff a real challenge, especially with data gathering
Majority of health care workers are altruistic and motivated hence the impact of a patient story shouldn't be underestimated
Simplifying the process as much as possible by removing as many steps as we could seems to have helped
Never expect, and certainly don't be disappointed by lack of, perfection
Improvement work has improved morale in our hospital
For further information please contact:
Do you have a quality improvement project that you want to tell us about? Submit your story below. 
Questions about quality improvement? Get in touch
Email
If you have any questions or need further information please email us at QI@rcseng.ac.uk

We will reply to you as soon as possible.