Visible Body : Human Anatomy Atlas 2018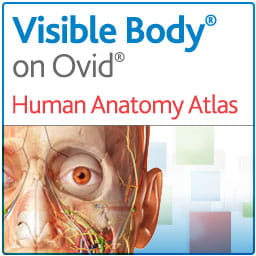 Fellows, Members, postgraduate Affiliates and Associates can access Visible Body on mobile devices or use the online version.
What is Visible Body?
Visible Body is a comprehensive 3-D visualization and learning tool used to interact with and explore the systems of the human body. It includes over 5,000 interactive, medically accurate, male and female anatomical structures, covering systemic and regional anatomy. All the models are three-dimensional, allowing you to rotate, zoom, dissect and add anatomical features. Once a structure is selected, you can access encyclopaedic definitions, common pathologies, pronunciation guides and MRI images.
Key features
See structures from all body systems: nervous, skeletal, circulatory, muscular, digestive, urinary, lymphatic, endocrine, and reproductive
Delve into the microanatomy of tissue and special organs, including the eye, ear, and tongue
Dental anatomy
Watch muscle movements in rotatable moving 3-D models
Quizzes to test knowledge
Augmented reality features
Accessing Visible Body: Human Anatomy Atlas 2018
The Mobile App
Download the app from the Apple App Store or Google Play, or search for '2018 Atlas Perpetual' on your device store.
Email library.athens@rcseng.ac.uk for the code you will need to begin using the app.
Please be aware that we have had feedback that the storage requirements for the app are substantial.
Using Visible Body on your browser
Fellows, Members, postgraduate Affiliates and Associates can access Visible Body at Ovid with their College Login details:
Log in to the College website
Click the Launch button. It is a large app and will take a few moments to load, especially the first time.
Please see our Visible Body help page for more information and illustrated help.