Designation
Designation Accolade for our Collections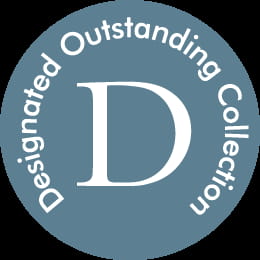 Arts Council England awarded Designated status to the Library, the Archives and the Hunterian Museum of the Royal College of Surgeons of England in 2013.

This prestigious accolade distinguishes our remarkable collections as being of national and international quality and significance.

The Designation award is one of only a handful in the country made to combined library, archive and museum collections.

It complements the Designated status awarded in 1999 to the Hunterian Collection. This was for the original anatomical and pathological specimens created by surgeon and comparative anatomist John Hunter FRS (1728-1793).
Together, our collections reflect the history and development of British surgery and the surgical profession. They tell the story of surgical development and the profession's endeavours to improve procedures and patient safety - from the first use of antiseptic in the operating theatre to the birth of minimally invasive keyhole surgery.
Many of the items in our collections are rare or unique.
Arts Council England's Designation Scheme identifies and celebrates the pre-eminent collections of national and international importance held in England's non-national museums, libraries and archives.
These collections are a vital part of England's cultural and artistic heritage, informing individuals and communities and contributing to a sense of community and place.