Morbidity and Mortality Meetings

Surgical morbidity and mortality (M&M) meetings have a central function in supporting services to achieve and maintain high standards of care. Throughout the UK, practices provides advice on the following topics: around the structure and content of M&M meetings vary widely and so does their quality. According to Good Surgical Practice (RCS, 2014),  all surgeons should regularly attend morbidity and mortality meetings as a key activity for reviewing the performance of the surgical team and ensuring quality. The College' s guidance is a practical guide for setting up, running and participating in high quality surgical M&M meetings. 
Preparation and organisation of meetings to ensure they are well-supported and 

attended.
Effective chairing of meetings.
Types of behaviours that participants should display to ensure discussions are held in an open and inclusive atmosphere.
Presentation and discussion of cases
Ensuring that actions arising from meetings are sucessfully completed and that lessons are learned and implemented.
Read the guidance here.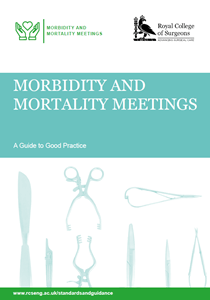 The following templates are also available to assist teams in running a surgical M&M meeting: