Challenging the stereotype of a surgeon
09 Sep 2015
Mrs Scarlett McNally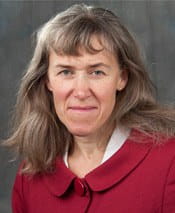 The social media campaign #ilooklikeasurgeon highlighted just how many women surgeons there are working in the UK and around the world. Posting photos of themselves with the caption, 'I look like a surgeon', these women were challenging outdated stereotypes, so often associated with our profession. They were sending a very powerful message to young women doctors and medical students who might not otherwise picture themselves as future surgeons; as well of course, to the wider public.

There is evidence which suggests that people who don't perceive that they 'fit in' are more likely to opt out. In 2008, The Royal College of Surgeons (RCS) commissioned the University of Exeter to carry out some research which found a similar phenomenon in some female surgical trainees.
Our mental image of what a surgeon looks like reflects the era when that potential role model got through training when the culture was very different. Surgeons like me (still just under 50!) trained in the 1990s when the hours were very long, you had to be up operating all night (before National Confidential Enquiry into Patient Outcome and Death stopped that) and then work the next day.
You were dependent on your boss's reference, supervision was variable and the training system was less clear. There are fewer women surgeons now in their 50s and 60s when surgeons trained in a very different era, when absolute dedication to the job was expected, 168 hours per week, and when society expected the man to be the main breadwinner in a relationship. Generations coming through now and in the future will be very different.
The last two decades have seen a shift in attitudes and an acknowledgement that surgical training coincides with the peak time for starting a family; and that it is possible to combine pregnancy and child-rearing with surgical training and work. Reduced junior doctors' hours also allow at least some time off. But the lack of women surgeons is not all about historical attempts to balance or reject family vs. career.
The human brain puts things into patterns. For example, people may unconsciously think that you have to act or look a certain way to do a certain job, particularly if that is all they have seen. But you don't. The skills needed to do a job can be taught and learnt. Surgeons are already highly intelligent, skilful and adaptable. Each one of us is a role model – some good, some bad.
The key hurdles for future surgeons, at exam, selection and progression do not discriminate against women. So why is surgery still different for women? Many women medical students want to do surgery. Our research (published in the RCS Bulletin in February 2012) showed that 30% of applicants to core surgical training are women, but far fewer women than men continue and apply to Higher specialist surgical training.
Women and men's behaviour tends to be perceived differently (eg strident/bitchy vs charismatic). Some psychological studies have found that women will not ask to do an operation until they are sure they can do it and that other people (including other NHS staff) can be more forgiving of a man's learning curve. More diverse teams cope better with change. And losing this talent is wasteful and unfair. So what can we do about it?
On a general basis, everyone should see themselves as a role model, men and women. We should engage with people if they say unacceptable things and challenge them. We should also identify which individuals might need more support.
On an individual basis, aspiring surgeons would benefit from a mentor to help with their long-term view. This is especially true now there are fewer Foundation posts in surgery and now that the later retirement age means that women will have several decades of working after having children, but this phase of working life has fewer role models for the current generation. Mentoring and support might also help the NHS with succession planning, so people can picture themselves in future roles, building up their skills and rising up the ranks in their career.
The RCS is trying to change the profession from within through its Women in Surgery (WinS) group. This offers networking opportunities and events for female surgeons at all stages of their career. We want to break the historic cycle of there being too few female surgeons by providing strong female role models and encouraging female surgeons to take on high profile roles. Although only 10% of consultant surgeons are women, the workforce is changing: 30% of surgical trainees are women. We now need to encourage all medical students to believe they too look like and can act like a surgeon.
Mrs Scarlett McNally is a Consultant Orthopaedic Surgeon & Council member at the RCS England.