Black surgeons past and present
This year's Black History Month in the UK is marked by greater acknowledgement of the disparities that exist following the Black Lives Matter protests and the discovery that BAME healthcare workers were disproportionately affected by COVID-19.
As the month draws to a close, we want to highlight the achievements of two fellows, from both past and present, to mark this important celebration of diversity and black culture.
Monica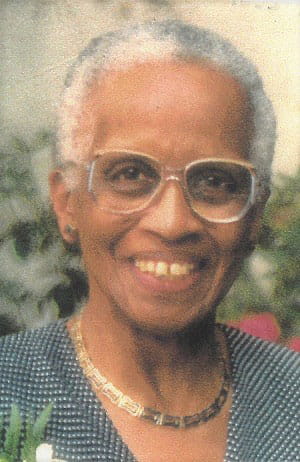 At a time when there were few black or minority ethnic surgeons to be seen in the UK, Monica Lewin became the first Jamaican woman to become a fellow of The Royal College of Surgeons of England. Born in Jamaica in 1926, she went on to study medicine at the Royal Free Hospital in London on a Jamaican government scholarship. She met her husband David Atkinson when they were both medical students and they married in 1949.
After qualifying, she held a series of posts as house surgeon and house physician, and served in Brighton, the Royal London Homoeopathic Hospital and the Elizabeth Garrett Anderson Hospital. She passed the FRCS exam in 1962 and returned to Jamaica where she served as a senior registrar and was made surgeon to the Children's and Kingston Public Hospitals a year later. During the unrest in Kingston in the 1960s, she worked tirelessly to treat gunshot and machete wounds, saving countless lives while working close to danger.
She eventually returned to the UK with her husband when he was offered a post as a consultant urologist at the North Middlesex Hospital. Monica stayed involved as a clinical assistant in the accident and emergency departments of the Royal Northern and Whittington Hospitals. She retired in 1988 and became an avid radio amateur, or radio ham. She died in 1998 and is survived by two children and three grandchildren.
Anthea
Anthea Davy is the first black British woman to be appointed a consultant in trauma and orthopaedics in the UK and is a member of the Women in Surgery Forum at RCS England. 'My parents tell me that from a young age I always said that I wanted to be a doctor. I was interested in things requiring manual dexterity, such as playing musical instruments and was forever building or deconstructing things, wanting to know how they worked mechanically.'
One of the things that she values most as a surgeon is the relationship between the surgeon and the patient. 'To have someone say "I trust you, I want you to operate on me" always means a lot to me.' She says that some patients you never forget. One of her most memorable patients was a lady with severe rheumatoid arthritis of the hand which required a particularly difficult surgery. 'She was so happy to be able to use her hands again, she crocheted me a lovely scarf, which I still wear today.'
'I always have mixed feelings about Black History Month', Anthea explains.
While she relishes the opportunity to learn more about black history in the UK, she says that 'I am saddened that "black" history seems confined to one month of the year and is often not taught as part of UK history.'
Anthea was one of thousands of people who responded to the College's survey on diversity in early October. The aim of the survey was to understand how fellows and members felt about the diversity of leadership at the College, in order to inform the independent review being led by Baroness Helena Kennedy QC. According to Anthea, while the College continues to make great strides in supporting female surgeons in their career through its Women in Surgery network, it is yet to get to grips with race and ethnicity.
'As a black woman surgeon having been asked to reflect on diversity in surgery during Black History Month, I can see little representation of people like me in leadership positions within the College.' She believes, however, that the College has the opportunity to act as a shining example of good practice for the surgical profession through its ongoing commitment to tackle discrimination and improve diversity and inclusion.
On how the current direction of travel benefits everyone, not just black surgeons but the profession and patients more broadly, she adds: 'I am delighted to see the increasing number of talented surgeons of African and Caribbean heritage rising through the ranks, many of whom will be brilliant surgical leaders of the future – I hope their talent will be nurtured.'