London surgeons crowned winners in national competition after demonstrating their cutting edge skills and team work
Two London surgeons have been crowned winners of a prestigious national competition, after demonstrating their cutting edge surgical skills and excellent team work. Mr Tim Jones and Mr Zak Vinnicombe competed against 22 finalists in our annual Are You Cut Out For It? surgical skills competition.
The event assessed trainees' core surgical skills and their knowledge of basic surgical principles. The final, which took place in our new building, was also about team work, as the 24 finalists worked in pairs to perform skin, laparoscopic and non-technical skills tasks.
The winners were awarded the Louis Solomon Knights Award for Surgical Skills, along with a prize of £1,500 to share. They performed an abdominal wall opening and closure followed by a viva on clinical anatomy using specimens of limbs from the College's Anatomy and Pathology Resource Centre.
The runners up were Mr Michael Foxall-Smith and Ms Rebecca Smit, representing the Severn region, who won a share of £500.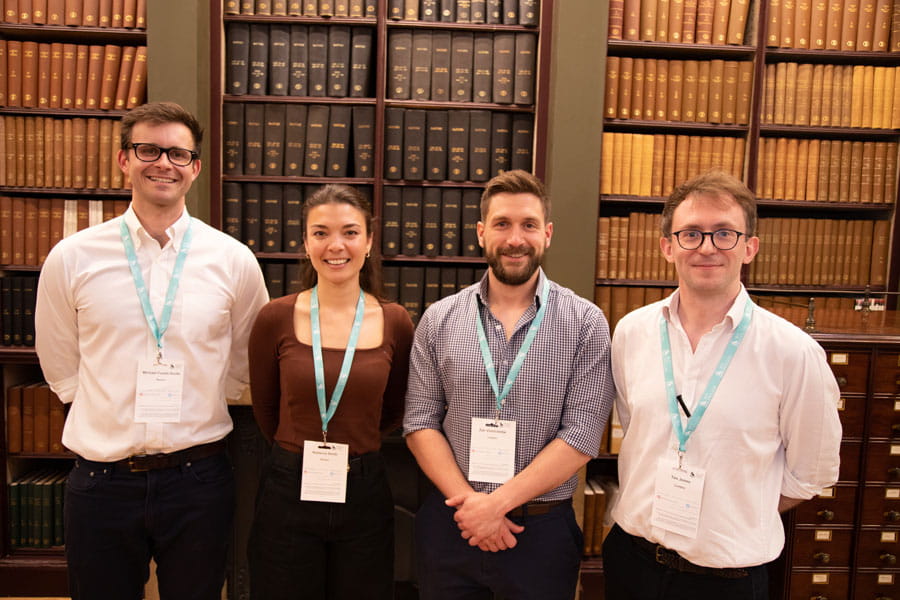 The finalists of Are You Cut Out For It? 2022
On winning the competition, Mr Vinnicombe, an ST3 in Plastic Surgery at St George's University Hospitals, said: 'It was great to take part in the competition as it was unfortunately postponed last year because of COVID. Tim and I were paired together completely at random before the regional heats, and the final was only the second time we had actually met.
'Every operation requires team work and people working together with a unified goal, so I can see why it is an essential part of the competition. To be a successful surgeon, and to be able to help your patients, you have to be able to work well together with someone who has a different but complementary skill set to you.'
He added: 'It was great to be able to meet and compete with trainees from across the UK. The interesting and fun tasks put me outside my comfort zone.'
Mr Jones, an ST2 in General Surgery at Barking, Havering and Redbridge Hospitals, said: 'I am delighted and humbled to have won amongst some stiff competition. Zak and I recognised the different strengths we both brought and encouraged each other to lead at different stages. This event really highlighted that in addition to technical skill, a collaborative approach drives modern surgical practice.
'I could feel the pressure at times, which certainly focuses the mind, but it was good fun and I would encourage any trainee to take part in the future. I am very grateful to the sponsors, the College and my consultants at BHRUT for the excellent training over the last 18 months.'
The annual competition is made possible thanks to the time and expertise of volunteers and judges. Mr Tim Mitchell, RCS England Vice President and one of the judges, said, 'It's been fantastic to see so many young and enthusiastic surgeons competing in our newly dedicated Bjorn Savén Centre. The standard has been incredibly high and we congratulate Tim and Zak on their success.'