Trainees wanted to write for the Bulletin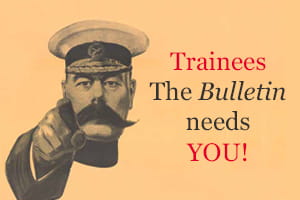 As part of our work transforming surgery for the future and in response to feedback from our members the Bulletin is looking for trainees who are interested in writing for us. This could be a one-off article or regular columns.

Getting published in the Bulletin will support your professional development and enhance your portfolio.

Some suggested topics:
how to increase your logbook numbers
childcare and surgical training
how to build an RCT
how to deal with a consultant with whom you don't see eye to eye
We welcome proposals on these topics or any others.
Get in touch at bulletin@rcseng.ac.uk