Winner of the Hallett Prize
Congratulations to the latest winner of The Hallett Prize, awarded to the candidate who scores the highest mark in their MRCS Part A exam.
Marinos Koulouroudias, a CT1 surgical trainee at the Royal Free London NHS Foundation Trust, was awarded the medal at diplomates day in London in March.
"It always feels great to be recognised for your work," he said.
The recipient of the Hallett Prize must achieve a minimum score of 90% on their first attempt at the MRCS Part A.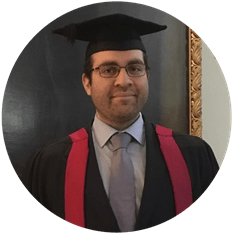 Marinos had to fit his study around a busy A&E rotation, so he began his exam preparation six months out.
"I knew I was sitting the exam during the rotation, so I started my study early," he said.
Marinos, who is doing the RCS Postgraduate Certificate in Surgery PG Cert, said that people sitting the MRCS Part A should remember that basic sciences and anatomy will form the bulk of what you need to know.
Regarding his recommended revision tools, he says, "Question banks are good, but remember to go back to your primary sources and read your books."
Congratulations Marinos!