LSE and the Royal College of Surgeons announce completion of purchase of Nuffield Building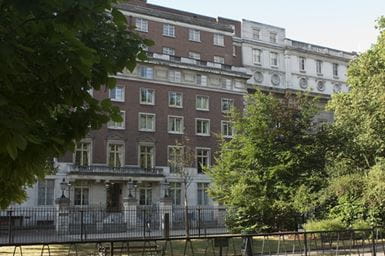 The London School of Economics and Political Science (LSE) and the Royal College of Surgeons (RCS) announce today that they have achieved contract completion on the purchase of Nuffield Building [1]. The building, currently part of the RCS headquarters, will be transferred to LSE following the completion of the redevelopment of the RCS's historic 'Barry-designed' building in 2020.
The Nuffield Building, which is adjacent to the LSE's Lincoln's Inn Fields estate, will enable the School to use the building's almost 93,000 sqf of additional space to improve the student experience, offering new facilities and enhancing the teaching and learning environment.
Julian S. Robinson, LSE Director of Estates said:
"We are delighted to have agreed this purchase from our long-term neighbours. This strategically important acquisition further reinforces the School's presence on Lincoln's Inn Fields and will help us realise our ambition of creating a 'world class' estate. Together with the planned development of the Marshall Building, the acquisition of the Nuffield contributes to our state-of-the-art infrastructure in central London, supporting and sustaining LSE as a world-leader in social science education for generations to come."
The RCS is redeveloping its 'Barry-designed' building as part of Project Transform, which will see the redeveloped space become a modern and light facility, providing the best education, examination and research resources for the nation's surgeons. The project will refurbish and maintain the historic façade and library.
The Hunterian Museum, which previously resided on the first floor of the RCS building, will be expanded to occupy the majority of the ground floor. This will allow more of the museum's collection to be displayed when the museum reopens in early 2021.
Andrew Reed, Chief Executive of the Royal College of Surgeons said:
"This is an exciting time for everyone at the RCS, and we are pleased that the sale of the long-term leasehold of Nuffield building to the LSE has now completed. This is another step on the RCS's path to becoming a modern home for surgical excellence in the UK and across the world."
[1]
London School of Economics has purchased a 155-year leasehold.