Royal College of Surgeons' survey of how winter pressures are affecting planned surgery
Over the weekend of 14-15 January 2017 the Royal College of Surgeons asked its members to fill in a survey about their experience of how winter pressures in the NHS were affecting their hospital between 1-12 January 2017. We chose this time period because usually there is a resumption in planned care operations after the Christmas period although this data shows cancellation of elective surgery was still affecting a number of Trusts. The survey is a snapshot of what is happening in England, Wales, and Northern Ireland.
In total surgeons at 85 NHS Trusts or Health Boards responded for England, Wales and Northern Ireland. No data was submitted for Scotland. For simplicity we looked at NHS Trusts and Health Boards not individual hospitals – some Trusts and Health Boards contain multiple hospitals and different sites will likely face different pressures.
Please note the data quality note below. This data should be regarded as anecdotal concerns reported by surgeons – we have not verified responses with individual Trusts or Health Boards.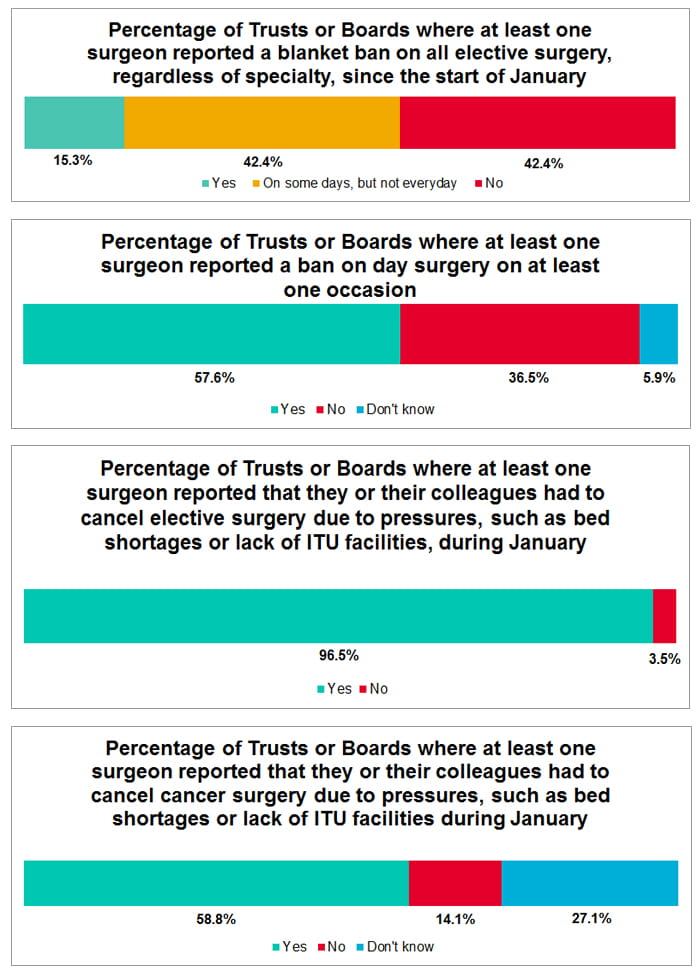 About this data
Number of total trusts or health boards in our data: 85
Number in England: 79
Number in Wales: 4
Number in NI: 2
Number of total respondents (surgeons): 151
Data quality note
This data needs to be treated with caution for a number of reasons:
We had 151 respondents. This is not unusual for a survey with a short timeframe but this means the results need to be treated cautiously. For example, it is possible that surgeons with experience of cancelled operations may have been more likely to respond than those from Trusts or Health Boards experiencing less pressure this winter.
We have asked for surgeons' opinions but not verified this with individual trusts. There is currently no published national data to compare this to and no national data is collected on the number of blanket bans on planned surgery, cancelled cancer operations, or cancelled day case operations.
We have no comparative data with previous years. However, it is widely considered rare for hospitals to have to cancel cancer operations and day case operations.
No absolute numbers of cancellations have been collected.
The percentages shown in the graphs have been approximated to one decimal point for clarity. On occasion this may result in the sum of these percentages going above 100%.