Survey findings: Elective surgery during COVID-19

Thank you to the 1,741 surgeons and surgical trainees who participated in our elective surgery survey, which ran from 8 June to 15 June 2020. The responses have highlighted the range of challenges currently faced by surgical teams, including slow access to test results, continuing difficulty accessing COVID-light facilities and a lack of interdependent services such as diagnostics. In response to these challenges we are making a series of urgent recommendations for action, to restore surgery safely across the country.
Recommendations:
The speed at which test results can be returned is a crucial factor in enabling more elective surgery to take place safely. The aim should be for surgeons to have access to same-day test results, so they can test patients both before and upon admission, and again upon discharge.
Surgical staff working in COVID-light sites should be tested regularly - up to twice a week where practical.
Surgical teams in every part of the UK need access to COVID-light sites for their patients, so that people waiting for time-sensitive operations can safely be treated again.
A quarter of surgical teams depend on the independent sector to provide COVID-light facilities, so contracts with the independent sector need to be extended and include opportunities for surgical trainees to progress their training.
Good use must continue to be made of recently retired surgeons who have returned to support the NHS through the crisis, with extension of the temporary registers which underpin this.
Survey findings summary
Re-starting elective surgery
33% said they had been unable to undertake any elective or planned procedures in the last four weeks. Of those who had resumed surgery, 30% reported that this was only possible for cancer patients.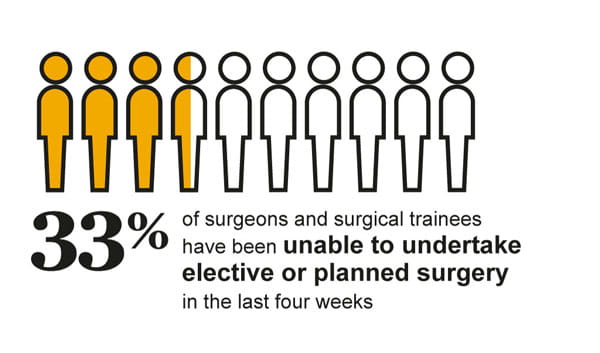 Barriers cited to restarting elective surgery:
46% cited lack of access to interdependent services (such as diagnostics, anaesthesia and sterile processing)
35% cited lack of staff
33% cited lack of access to testing or swift results
21% cited lack of sufficient PPE.


COVID-light sites
62% of survey respondents said that they were able to access COVID-light sites for their patients. However, 26% had not been able to access such facilities at all.
26% had accessed COVID-light facilities through the independent sector.
Testing and PPE
91% of respondents who had been able to resume planned procedures said that patients were receiving pre-operative tests for COVID-19, in line with recommendations from NHS England.
10% of surgeons say that they can get test results for surgical patients within 8 hours, with a further 31% saying test results were available in 24 hours.
In terms of staff testing, 60% of respondents said they thought it was necessary to test staff at least once a week in order to maintain COVID-light sites.
One in six (17%) survey respondents said that they did not have a sufficient supply of PPE to do their job safely.
How have surgeons adapted?
91% of survey respondents said that they had used video or telephone conferencing to undertake patient consultations and outpatient clinics during the pandemic.
83% of surgeons have also conducted team meetings remotely.
38% of respondents said that surgeons had been redeployed to alternative roles during the pandemic, and 69% said that there had been redeployment of surgical trainees.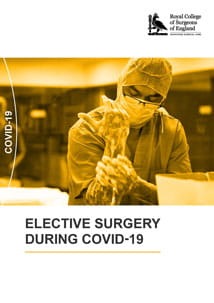 For more information read the full report.
Related resources for surgical teams