Supporting the profession through policy and media
In our 2016 membership survey, you told us that you would like to see us increase our advocacy and support for the profession, through our work with policy and the media. We've been working hard and feel we've made significant progress on behalf of the profession so far this year.
Media coverage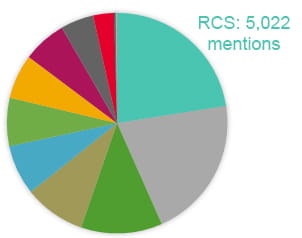 The RCS was the most quoted* non-government UK healthcare organisation during the first quarter of 2017 (January – March), with 5,022 mentions across broadcast, print and digital media, including multiple front-page news stories.

Through our work with the media we inform the views of the public, partners and Government about the important work of the profession as well as issues which influence surgery and the NHS more generally. It enables us to influence policy and drive forward changes in the NHS and surgery that benefit patients.
Policy
Important changes are being made as a result of our policy work with Government and the NHS. So far this year, we've been able to influence positive changes to issues including rationing, social care and NHS capital funding, hospital beds, disclosing private income, the European Working Time Directive and Northern Ireland health reforms.
What would you like to hear about?
You've told us that you are interested in our policy and media work, and that you'd like to see us do more. We'd like to know how we can best communicate our work in these areas with you, and what in particular you're interested in hearing about. Please comment below, or get in touch with any ideas or feedback.
*We were the most quoted out of the organisations that we monitor, which includes the BMA, King's Fund and the other Royal Colleges, among others. The results are from 1 January – 31 March 2017. Sources are TV Eyes for TV & radio coverage and Google News print & digital.